The Amnesty International report on civilian deaths caused by Russian airstrikes in Syria consists of "fakes and cliches", the Russian Defense Ministry spokesman said Wednesday.
"We have studied the report — again, there was nothing precise and new published there. The same cliches and fakes that we have often disproved earlier. The report if full of such expressions as 'presumably Russian airstrikes', 'possible international law violations' and so on. Sheer assumptions without any proof."
#SYRIA Temptations to accuse the Russian air group of mass killing of civilians and use of prohibited munitions are continued

— Минобороны России (@mod_russia) 23 декабря 2015
Earlier in the day, Amnesty International released a report suggesting Russia's use of internationally prohibited cluster munitions in populated residential areas in Syria.
Russian aircraft in Syria do not use cluster munitions and such weapons are not stored at the Hmeymim airbase, Maj. Gen. Igor Konashenkov said.
"As for cluster munitions allegations. The Russian aviation are not using them."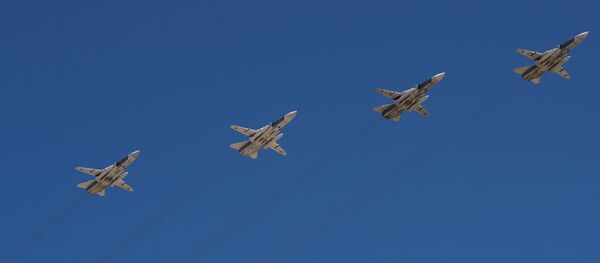 26 October 2015, 14:54 GMT
The ministry cast doubts on the authenticity of the airphotos used by the human rights watchdog and called on Amnesty International to name the sources of the information it had used in the report.
The spokesman underscored that in fact Amnesty accused Russia of bombing non-existent facilities.
"The barrage of lies was aimed at accusing Russian forces of bombing Syrian hospitals. We immediately rejected these claims, presenting comprehensive photographic and video evidence to the public. A characteristic feature of all these allegations is the lack of concrete evidence and references to anonymous witnesses," Maj. Gen. Konashenkov told reporters.
He said that Amnesty International ignores war crimes committed by terrorist groups in Iraq and Syria and has not provided detailed reports on the activities of the Gulf coalition in Yemen and the use of cluster munitions by Kiev troops in Donbass.
"We have a question for Amnesty International: why did this organization keep silent and turn a blind eye to material, undeniable, real evidence of the use of cluster munitions by the Ukrainian Armed Forces against cities in eastern Ukraine?"
According to the spokesman, the aim of such false media reports is to distract the international community from the four-year Syrian civil war, which has caused multiple civilian casualties.
​Since September 30, Russia has been carrying out airstrikes against the Daesh (Islamic State) terrorist group, having outlawed it, at the request of Syrian President Bashar Assad.