"Jets from the Russian air group in the Syrian Arab Republic have conducted 302 sorties and hit 1,093 targets in the provinces of Idlib, Aleppo, Deir ez-Zor, Hama and Homs from December 18 to December 23," Russian Defense Ministry spokesman Igor Konashenkov said.
Maj. Gen. Igor Konashenkov said that Russian jets destroyed a terrorist training camp in the Syrian province of Idlib hosting fighters from Turkey and CIS states.
"Russian Su-34 bombers destroyed a major terrorist training camp in the Idlib province. A large group of experienced instructors from neighboring states had been stationed in the camp. Information about this camp, where the majority of terrorists arriving from Turkey were citizens of CIS countries, was received from representatives of the Syrian patriotic opposition about a week ago."
Moreover, the Russian Defense Ministry spokesman said that Su-34 aircraft have destroyed two oil storage facilities and dozens of fuel pumps in the Deir ez-Zor province.
"Russian aircraft continued conducting strikes against illegal oilfields controlled by terrorists in the Syrian Arab Republic. Su-34 bombers destroyed two oil storage bases, three oil-extraction plants along with dozens of fuel pumps located there."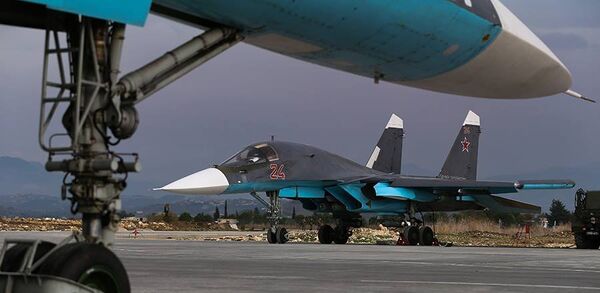 23 December 2015, 09:39 GMT
A Russian Su-24 bomber launched an attack on Daesh military equipment in the Syrian province of Homs, destroying six off-road vehicles equipped with heavy machine guns and three militants' trucks.
"Russia's Su-24 bomber conducted airstrikes against a concentration of Daesh military equipment in the Homs province."
A Su-34 jet also destroyed a Ahrar ash-Sham militant group's command post in the Aleppo province, Konashenkov said.