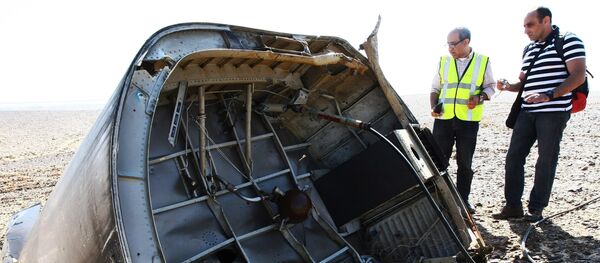 15 December 2015, 08:09 GMT
MOSCOW (Sputnik)
–
Certain structures, which may be related to the crash of the Russian A321 over the Sinai peninsula, have been identified, Russian Federal Security Service (FSB) head Alexander Bortnikov said Thursday.
"You know, work [on this matter] is underway. So far, I am unable to tell you anything specific. We have determined the approximate origin of the entities that may be related to this [the A321 incident]," Bortnikov told reporters.
He added that the FSB was unable to find the people who may have been responsible for the Russian plane crash.
A Russian Airbus A321 with 224 people on board crashed on October 31 while en route from Egypt's resort city of Sharm el-Sheikh to St. Petersburg, leaving no survivors.
The Islamic State (IS or Daesh in Arabic) extremist group, which is outlawed in Russia and many other countries, claimed responsibility for the attack.