China Railway Group and Russian Railroad have kicked off a new project to  design and build a high-speed railway between Moscow and the southeastern city of Kazan. It is expected that the line would be extended to Beijing, reducing the duration of a rail journey between Moscow and China's capital to 48 hours.
"We have a proposal from our German colleagues on signing a similar (Russia-China) memorandum on cooperation, where they make commitments on financing of up to €2 billion in the project on various conditions," Vice President of Russian Railways (RZD) Aleksandr Misharin told journalists.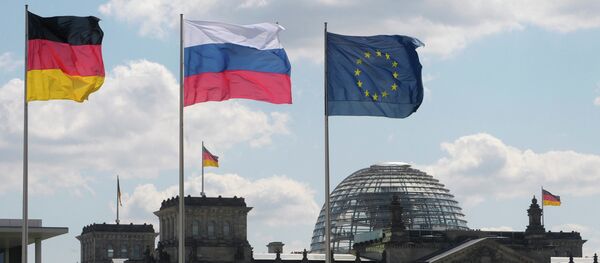 3 December 2015, 06:10 GMT
Misharin stated that the project would seek additional financial support next year, though a contract has not yet been signed.
Earlier, China agreed to invest some $6 billion to fund the proposed railway.
The cost of the 700 kilometer Moscow-Kazan rail line is calculated to be some $21.4 billion. The train is expected to travel at speeds of up to 400 kilometers per hour.
Under the new line, travelers would take three and half hours to get from Moscow to Kazan, compared to the current 14 hours.
According to a statement made earlier by Misharin, the railway will take up to 10 years to build and, "in terms of scale and significance," could be compared to the Suez Canal.
​A recent poll conducted by the German-Russian Chamber of Commerce (ANK) has found that 80 percent of companies that have trade links with Russia believe that economic sanctions are not having their desired effect.