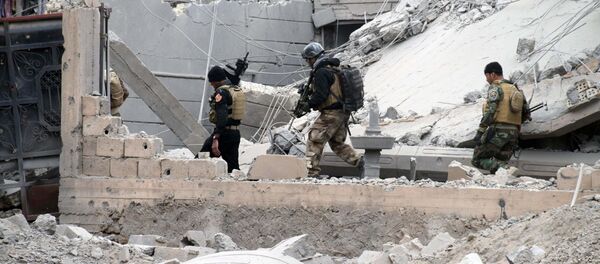 26 December 2015, 15:03 GMT
Turkish President Recep Tayyip Erdogan has told al-Arabiya television that his government refuses to cooperate with the intelligence center set up in Baghdad by the governments of Iraq, Iran, Syria and Russia to exchange information on the Daesh terrorist group.
"Syria, Iran, Iraq and Russia have formed a quartet of allies and asked Turkey to join them, but I told President Putin that I can't sit next to a President (Assad) whose legitimacy raises doubts," Erdogan told the interviewer.
In September it emerged that Iraq, Iran, Syria and Russia had set up the information center in Baghdad to collect and analyze intelligence on Daesh and other militant Islamic groups in the Middle East. The center is run by military representatives from each country, who will each head the center on a three month rotational basis.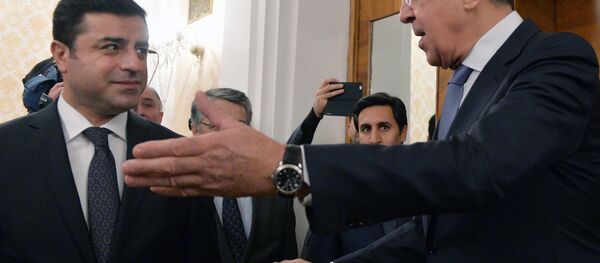 25 December 2015, 19:10 GMT
The Turkish president was also asked about the incursion of a 25 tank battalion and around 150 Turkish troops into northern Iraq at the beginning of December. The Iraqi government demanded the immediate withdrawal of the troops and complained to the UN Security Council about the military action, which it called a violation of Iraq's sovereignty.
Erdogan replied that the Turkish forces are there at the request of the Iraqi government.
"When ISIS (Daesh) entered Iraq, the Iraqis asked us to help, and we said we were ready to do so. We asked them to find a place to establish our base, and they did. Everything began in March last year, and in March we were allocated the area of Bashiqa," said the Turkish president, who began to withdraw some of the troops on December 14.
On Thursday the Arab League condemned Turkey's deployment of its armed forces in northern Iraq.
"The council denounces the Turkish military incursion into Iraq as an aggression against Iraqi sovereignty and a threat to the Arab national security," stated the Arab League following an emergency meeting of the organization in Cairo.
It demanded the immediate and unconditional withdrawal of all Turkish troops from Iraqi territory.