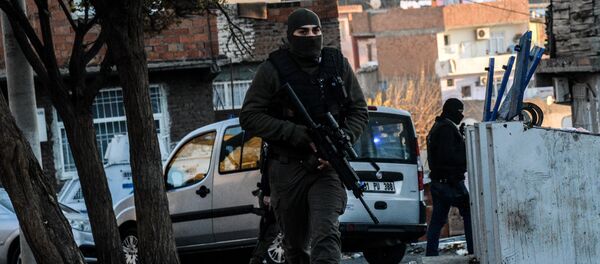 25 December 2015, 11:54 GMT
MOSCOW (Sputnik) – The Dogan News Agency (DHA) said that the clashes began after PKK had detonated two explosive devices during a Turkish military operation against the militants.
The agency added that the wounded personnel were taken to the nearest hospital, and none had life-threatening injuries.
The security situation in Turkey deteriorated in July, when 33 pro-Kurdish activists were killed in a suicide bombing in Suruc. Following the attack, PKK murdered two Turkish policemen, which led Ankara launching a military campaign against the group.
The Turkish army's operations are carried out in the southeastern districts where the PKK has a strong presence, including in Diyarbakir, Silvan, Cizre, Silopi. According to the country's Interior Ministry, some 100,000 people out of 1.3 million living in the area of the armed clashes were forced to flee their homes.