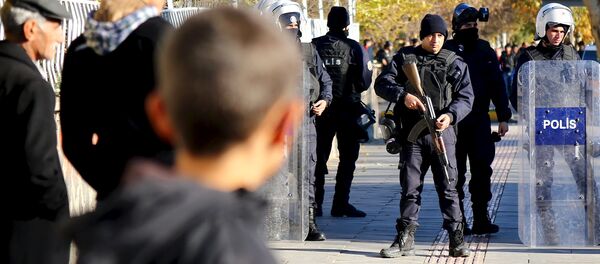 28 December 2015, 16:51 GMT
MOSCOW (Sputnik) – Last weekend,  Selahattin Demirtas, who is co-chairman of the pro-Kurdish Peoples' Democratic Party (HDP), attended a two-day congress hosted by Kurdish groups that are looking for more self-governance for the Kurds in the country.
The Turkish Dogan News Agency (DHA) reported, citing the president's speech at a press conference at Istanbul's Ataturk Airport, that a Turkish prosecutor had opened an inquiry into comments made by Demirtas at the congress. Allegedly, some of those present at the Kurdish congress accused Turkey of attacking their forces in Syria, while pretending to target Daesh militant group, which is outlawed in Russia and many other countries.
Earlier in December, Demirtas visited Moscow for talks with Russian Foreign Minister Sergei Lavrov about the strained relations between Turkey and Russia since a Russian Su-24 bomber was downed by a Turkish F-16 fighter over Syria.
The visit was strongly criticized by the Turkish government. The country's prime minister, Ahmet Davutoglu, called HDP's show of support to Russia after the incident with the Su-24 "treason", and canceled a regular meeting with the opposition group.