DAMASCUS (Sputnik) – Russian Aerospace Forces' airstrikes against trucks smuggling oil from Syria into Turkey by Daesh (Islamic State), prohibited in numerous countries including Russia and the United States, have helped in revealing the volume of theft from Syria's natural resources, Syrian Electrical Energy Minister Imad Hamis told Sputnik.
"The Turkish government and groups associated with it have played a large role in the theft of Syrian oil. This is one of the key factors influencing [Syria's] oil and energy sectors.
Lately many oil cisterns and tanker trucks have been shown smuggling stolen Syrian oil into Turkey that the Russian Aerospace Forces have been striking. This has revealed the volume of oil that the Syrian government is losing that is needed to produce energy," Hamis said.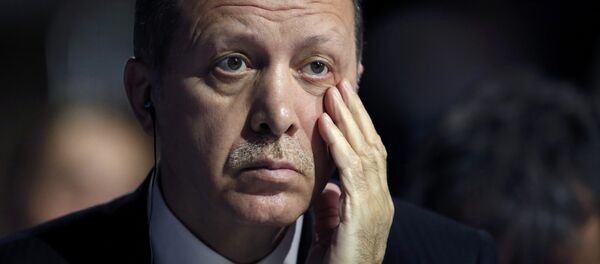 25 December 2015, 14:50 GMT
Daesh controls large areas in oil-rich Syria, Iraq and Libya. Russia has repeatedly stated that Turkey is the main procurer of illegal oil from Syria and Iraq, accusing President Erdogan and his family of direct involvement in the Daesh oil business.
Turkish President Recep Tayyip Erdogan has repeatedly denied profiting from Daesh oil trafficking and vowed to resign if evidence emerges that his family is implicated in the Daesh oil business.
The Russian Defense Ministry unveiled satellite images showing Daesh transporting up to 200,000 barrels of oil in at least 1,722 trucks to third-party countries, most notably Turkey.