WASHINGTON (Sputnik) — The United States has "totally destabilized" the Middle East, Donald Trump said during a campaign rally speech in South Carolina on Wednesday.
"We backed people that turned out to be far worse than [Libyan leader Muammar] Gaddafi. Look what we did in Iraq," Trump continued.
He underscored his dislike of questions about a potential strategy against Daesh, because answering them would inform the terror group of future plans and would render the United States "unpredictable."
"I do not want to tell ISIS [Daesh] what I'm going to do to knock the hell out of them," Trump stated.
He added that the US had a lot of real problems including relations with China and Russia and criticized President Barack Obama for "always talking about global warming" instead of tackling those issues.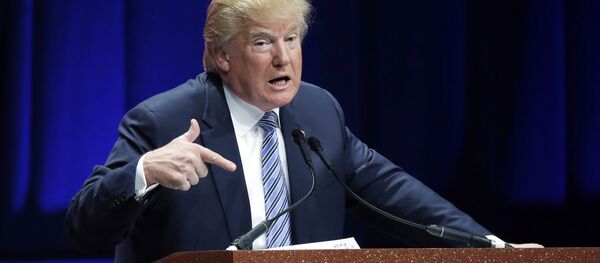 30 December 2015, 11:20 GMT
According to a recent CNN/ORC poll, a majority of US voters say they support presidential candidates Trump and US Senator Ted Cruz for the Republican presidential nomination.
Voters have voiced their belief that Trump and Cruz are the best candidates to handle the US economy, immigration as well as Daesh (Islamic State). The terror group is outlawed in many countries around the world, including in Russia.