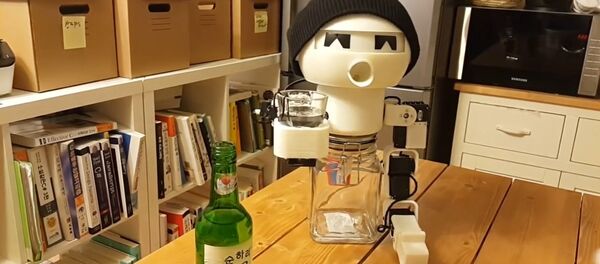 25 December 2015, 18:34 GMT
The name Nadine is based on her creator, Professor Nadia Thalmann, and the robot is powered by software similar to Apple's Siri. The NTU scientists on the Nadine project hoped to turn a virtual personality construct into a physical being with the ability to observe and interact with other humans. To assist in the achievement of their goal, scientists conducted cross-disciplinary research in social-robotics technologies.
Apparently the result has lived up to expectations. Nadine can now be found at the university's reception desk where she not only meets and greets visitors with a smile and handshake but also recognizes past guests, engaging in conversation based on information gathered in previous interactions.
Nadine resembles a human being, not only in appearance, but also in that she has a personality, and can express various types of emotions depending on the topic.
"This is somewhat like a real companion that is always with you and conscious of what is happening" Thalmann said, as reported by the Telegraph.
Thalmann asserts that social robots can be an answer to the problem of a shrinking workforce, provide childcare and offer friendship to lonely senior citizens.
The university's another creation, a tele-presence robot named EDGAR, has a rear-projecting screen for its face and two highly articulated arms. A user standing in front of a specialized webcam can control the robot from any Internet connection. The user's facial expressions will be displayed on the robot's screen in real time.
Some companies have expressed interest in robot technologies. NTU scientists could partner with industry, licensing their technology for the creation of products and services.