The US National Security Agency (NSA) tapped into conversations between Israeli and American officials in order to figure out how to counter the campaign of Israeli Prime Minister Benjamin Netanyahu against a deal with Iran on its nuclear program, The Wall Street Journal reported.
According to the newspaper, the NSA spying allowed the collection of more information on Israeli efforts to undermine the nuclear talks with Iran and turn Congress against the deal by coordinating with Jewish-American groups, negotiating with undecided US lawmakers and leaking details of US-Iran negotiations.
Netanyahu has been a staunch opponent of the Iran nuclear deal, and his stance has caused much disagreement with the United States. Over the course of the negotiations, Netanyahu repeatedly warned that concessions offered to Tehran as part of the nuclear deal would endanger stability in the Middle East and Israel's national security.
Avigdor Eskin, Israeli analyst and publicist, told Radio Sputnik that this spy scandal surprised no one. He noted that if Washington continues to break its promises, it risks losing its allies.
"All the countries are engaged in spying but when the US has so many times asked its allies to refrain from any spying on US soil promising that all of the information will be passed to them and that American government has nothing to hide but on the other hand, Americans are doing exactly what they are asking others not to do."
Eskin further said, "Double standard is something that is practiced in the US. If you are a business man and you ask others to abide by certain rules but then you break these rules you are becoming a loser on the market because you are using your reputation and losing your credibility."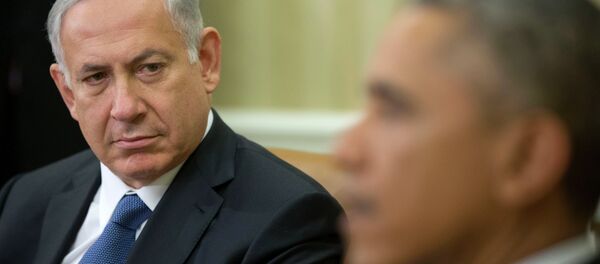 30 December 2015, 14:36 GMT
Regarding the level of trust between Prime Minister Netanyahu and Russian President Vladimir Putin, Eskin said that the trust level is really high. "I would dare to say that if you ever ask Netanyahu who is the most trusted leader in the world today he will say Putin. I am guessing that the Russian President will also say the same thing because they have a very special relation and they trust each other. They do disagree sometimes even strongly on issues such as Iran, but you can disagree and still trust each other."
The analyst noted that there is no trust between Netanyahu and Obama and that is the main difference. "Despite all the history and relations, the spying scandal proves that there is no trust."
He said that it is difficult to build the same relations again but it is important to fix them because the situation in the world has been grave and it requires countries to cooperate and trust each other to make things better in the coming year.