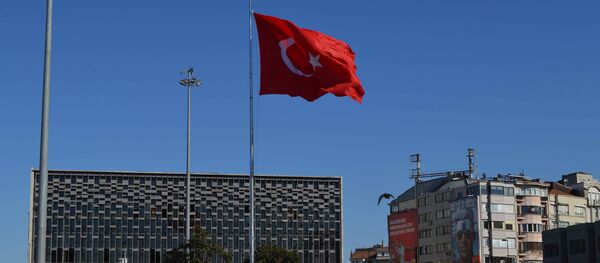 30 December 2015, 09:00 GMT
There is no way Turkey can avoid feeling the pinch of the trade sanctions and other economic restrictions Moscow imposed on Ankara after a Turkish fighter jet shot down a Russian bomber in Syria.
Russia accounts for 55 percent of Turkey's gas consumption and 30 percent of its need for oil, the newspaper El Pais wrote.
The country's farming sector will also suffer, Spain's highest-circulation daily newspaper El Pais warned, adding that the absence of Turkish fruits and vegetables will be felt in Russia too, the author added.
Turkey's tourist industry has been hit the hardest by the Russian sanctions. Over three million Russian vacationers, 10 percent of all foreign tourists,   visited the country each year. With this flow having dried up, Turkey risks losing billions of dollars' worth in lost profit.
"The biggest problem Turkey is facing today is its dependence on Russian fuel supplies. Finding alternative suppliers is not easy,  especially now that  Saudi Arabia and other exporters are going through hard times," the newspaper noted.
The main reason why Ankara's relations with Moscow soured so badly is President Recep Tayyip Erdogan's burning desire to turn Turkey into a regional superpower, the newspaper wrote.
In doing this he hopes for Western support, but neither the US nor the European Union appear in a hurry to slam Russia for its decision to slap sanctions on Ankara, the author continued.
"This means that Turkey has no trump cards to win the game," El Pais wrote.
The only advantage Turkey now has is that its geographical position as a transit route for Middle Eastern migrants heading to Western Europe has ensured a steady flow of EU funds to accommodate the incoming refugees, the author continued.
With relations with Russia at a low ebb, Ankara and Brussels have resumed talks on making Turkey part of the European Union, El Pais wrote, adding that the EU should take its time and avoid any rushed decision on making Turkey part of the 28-nation bloc.