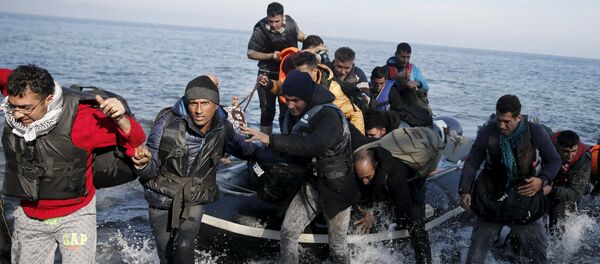 29 December 2015, 13:46 GMT
France is planning to build its first new refugee camp for 13 years at Grande-Synthe, close to Dunkirk on France's northern coast, raising fears in the UK that the country could be faced with an influx of refugees and migrants who leave the facility and travel across the English Channel.
"Britain is facing a new threat to its border after France announced the construction of a 'Sangatte' — style refugee camp less than 50 miles from Dover," reported the UK's Daily Telegraph on Thursday.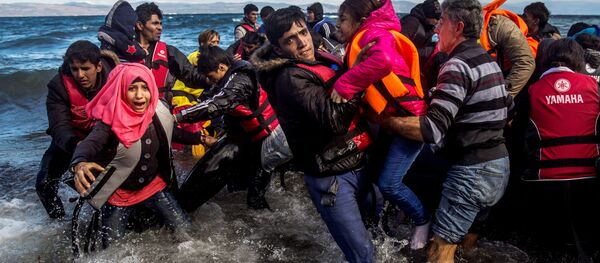 30 December 2015, 06:46 GMT
The Sangatte camp was located less than two kilometers from the French terminal of the Channel Tunnel, and closed in 2002 after protests from the British government and the Eurotunnel train operator, which complained about illegal immigrants stowing themselves away on its trains across the channel to the UK.
"Up to 3,000 migrants will be housed just 25 miles from Calais, where 6,000 are gathered," reported The Sun newspaper on Saturday. The so-called 'Jungle' refugee camp at Calais houses 6,000 people who live there in squalid conditions. 
​British Conservative Member of Parliament Tim Loughton called the plan "a really unhelpful move by France on all fronts."
"If they are genuine about looking after refugees then it needs to be at their point of entry rather than as a jumping-off point for the UK, where they have no right of abode," said the MP. 
He complained that construction of the camp "sends out an unhelpful signal to more people who are led to believe – often by illegal traffickers — that the streets of Britain are paved with gold."
'Migrants: France is opening a humanitarian camp at Grand-Synthe,' reported Le Monde.
​Construction work is set to begin on the site in the coming weeks, and was announced by French officials last week after calls from activists and NGO's like Medecins Sans Frontieres (MSF) to improve conditions for thousands of refugees and migrants living in makeshift camps on France's northern coast. 
One refugee camp at Grande-Synthe is already home to 2,600 people, mostly Kurdish refugees from Iraq and Syria, living in tents in harsh weather conditions and without adequate sanitation or electricity. According to MSF, there are just 48 showers, 32 toilets and two sources of drinking water for all the people living there.
'Today at the ​Grand-Synthe camp, it's worse than the jungle at Calais. The state must take responsibility,' reported MSF France last month.
"France, the land of human rights, should be ashamed that a situation worthy of the third world can exist on its territory," complained the mayor of Grande-Synthe in mid-November, before a meeting was scheduled with France's Interior Minister Bernard Cazeneuve to discuss the issue.