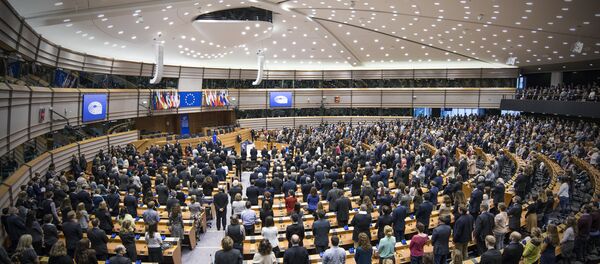 24 November 2015, 14:31 GMT
MOSCOW (Sputnik)
–
CSU members from south Bavaria's Wildbad Kreuth have prepared a motion, seen by Die Welt newspaper, that sets out steps to "effectively combat terrorism."
According to the document, German sympathizers of the Daesh, also known as ISIL/The Islamic State terror group, deemed a threat to the constitution, could be forced to wear ankle bracelets with electronic monitoring system round the clock, the outlet said Friday.
Stricter measures are reserved for Germans fighting for Daesh abroad. Under the CSU initiative, those returning from Syria may have German citizenship revoked.
Daesh is outlawed in the European Union, as well as in several other countries, including the United States and Russia.
A poll conducted by YouGov Deutschland in late December found that two-thirds of Germans expected Daesh militants to carry out a terrorist attack in their country in 2016. Germany, which is part of an international effort to defeat Islamists in Syria, has stepped up security measures in the wake of Paris terror attacks that killed 130 people in November.