While the new Saudi Arabian coalition intitiative to fight in Syria appears to have been stillborn, considering the lack of new releases, its actual ability to fight is also extremely questionable, considering its operation in Yemen.
The new Saudi-led "coalition" includes some of the world's poorest countries, some of whom appear to have never consented to being part of the new effort. The grouping's wealthier allies also showed their real lack of ability to fight in Yemen, where the war has degenerated into a quagmire.
"Despite Saudi Arabia's proclaimed 'coalition' against Daesh and other terror groups, the reality is that this unlikely and disparate collection of nations is unlikely to weaken the 'caliphate', as its members are neither capable nor interested in doing so," analysts Giorgio Cafiero and Daniel Wagner recently wrote.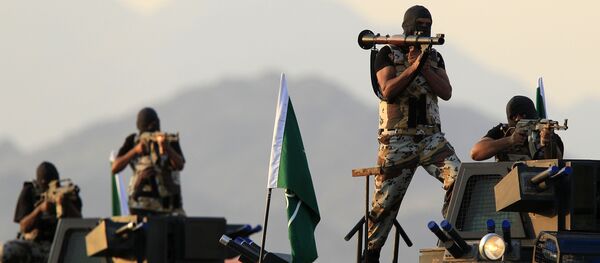 27 December 2015, 14:16 GMT
Several countries, including Pakistan and Malaysia said that they have never been informed of such a coalition forming. In addition, its aim of being an "anti-terror" coalition for a group of countries with diverging definitions of terrorist groups could make identifying clear goals for the coalition difficult, according to Cafiero and Wagner.
Saudi Arabia does have experience when it comes to involving poor countries in combat. The Saudi-led coalition in Yemen recently transported Sudanese fighters to Yemen, where they are stationed in the southern port city of Aden. Sudan's involvement in the Saudi invasion of Yemen has been limited, however, and one of its jets was reportedly downed by Houthis.
Bad Experience
Even if the wealthier countries which consented to being in the coalition agree to it, the prospects for a ground operation are unclear.
The military strength of Gulf countries, which spend billions of US dollars on weaponry, is also unclear. A Bahraini F-16 fighter jet crashed in Saudi Arabia on Wednesday, near the Yemeni border in unknown circumstances; however, both downing by Houthis and pilot error have been ruled out, leaving mechanical failure as the most probable reason.
Another issue is Saudi Arabia's loss of equipment, much of it expensive and US-made. While Daesh is generally considered weaker than the Houthis, who possess ballistic missiles and have trained operators for tanks and artillery, Saudi losses to Houthi militias in Yemen have been heavy, particularly when it comes to ambushes.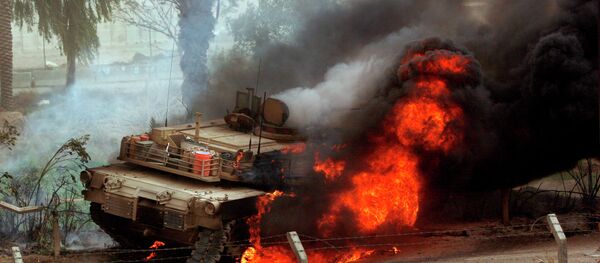 31 August 2015, 07:56 GMT
According  tto the the Russian-language site
Lost Armour
, in which online volunteers catalog equipment losses in Yemen and Ukraine, Saudi Arabia has consistently lost considerable numbers of tanks and armored vehicles, most of them supplied by the United States.
Although most of the equipment lost by the Saudis has been from the previous generation, including M60 Patton tanks and M113 armored personnel carriers, several Abrams tanks have also been destroyed by the Houthis, most recently in August, when the Saudis lost two Abrams tanks in one day; one was completely destroyed and the other was captured.
In September, Houthis captured another Abrams tank which was immobilized after losing a tread.
According to the catalog compiled by Lost Armour, Saudi and Emirati forces have lost at least 136 units of military equipment since that Saudi-led coalition began its operation in March 2015.
With such failures in mind, and what appears to be the beginning of a new offensive after Saudi Arabia ended its "ceasefire" in Yemen, it is not clear whether the country would have enough resources to begin a new operation in Syria.