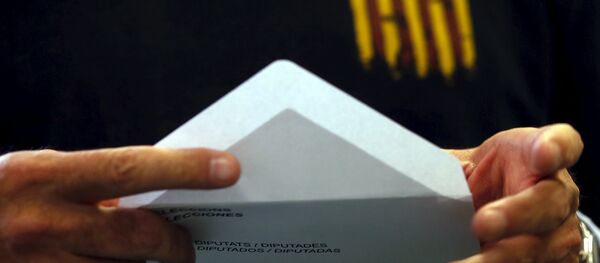 27 December 2015, 20:35 GMT
MOSCOW (Sputnik) — According to El Mundo newspaper, 68 members of the CUP political council decided not to support Mas' candidacy for the post of the government's president.
In late December, the CUP assembly failed to validate a preliminary deal to form a secessionist government with the pro-independence Catalan Junts pel Si (Together for Yes) coalition, headed by Mas.
In November, the Parliament of Catalonia twice voted against Mas' candidacy, which was supported by 62 lawmakers from the Junts pel Si coalition, while 73 representatives from all the other parliamentary groups, including 10 members of the parliament from the CUP, voted against it.
The members of the parliament have until January 9 to appoint Mas or come up with an alternative candidate. If they fail, Catalonia will have to hold fresh regional elections.