Saudi Arabia executed a prominent Iranian Shia cleric, Sheikh Nimr al-Nimr, on Saturday, drawing swift and sharp condemnation from Tehran, which warned that Riyadh would face "divine vengeance" for the killing.
Iranian protesters also overran and set fire to the Saudi embassy in Tehran in retaliation. Shortly after that attack, Saudi Arabia cut all diplomatic ties with Iran.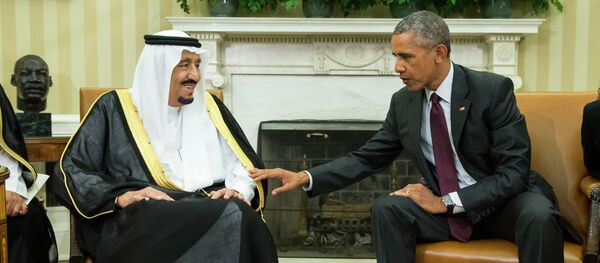 4 January 2016, 18:46 GMT
Since the chaos began, oil prices have spiked overnight, and then fell dramatically in early-morning trade in London on Monday before recovering again. West Texas Intermediate crude is up around 2.05% at $37.80, while Brent is up 2.90% at $38.36, Business Insider reported.
But Vikas Dwivedi, a global oil and gas strategist at Macquarie Research, is considering potential long-term impact to oil prices.
In a recent note to clients, Dwivedi said the Iran-Saudi disagreement could prove to be bullish for oil because of the "implications for longer-term strife and [the] possibility of war."
"The escalation of Saudi/Iran or Sunni/Shia tensions continues to be underappreciated by oil investors," he said.
"While supply growth continues to overwhelm demand in the near term, the vast majority of our 2016 supply growth comes from three countries, all located in the Middle East: Saudi Arabia, Iraq, and Iran. Any war between these nations, especially on Saudi or Iranian soil, represents significant upside to oil prices, even if production itself is not negatively impacted."
It would take a major escalation for the conflict to evolve into an all-out war. But Dwivedi said wars have been started by "relatively small catalysts, which in hindsight, enabled broader, already prevalent antagonistic attitudes to boil over into major and often times violent events."
"Where tensions already exist, innocuous events may cause seemingly outsized events," he writes.