Airing on Tasnim news agency and state television, the footage shows a state-of-the-art missile depot beneath an Iranian mountain range. Administered by Revolutionary Guards, the facility was inaugurated by Ali Larijani, the speaker of the Iranian parliament.
The depot is needed to ease overcrowding in similar sites, and houses a stockpile of Emad precision-guided missiles.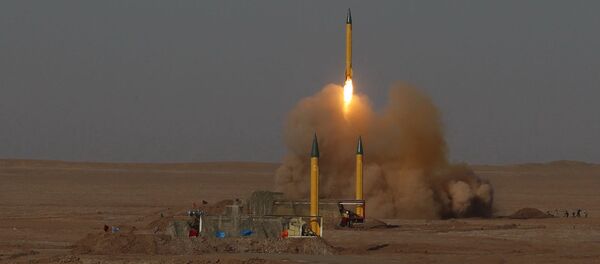 1 January 2016, 14:39 GMT
The unveiling comes after Iranian President Hassan Rouhani announced plans to expand the country's missile defense program. On Friday, Defense Minister Hossein Dehqan said that the program was necessary for national security.
"Iran boosts its defense capabilities in accordance with its objectives and its national interests," he said, according to IRNA News. He also added that the current situation in the Middle East required peace and security that can only be provided by the existence of strong military forces.
While Tehran has stressed that the program is in no way meant to provoke Washington, US officials have nonetheless expressed outrage. Military analysts say that the Emad missiles could, in theory, carry a nuclear warhead.
Last Wednesday, US officials speaking on condition of anonymity indicated that the US Treasury Department was preparing a new round of sanctions against companies and individuals associated with Iran's test-firing of two ballistic missiles. Washington called these launches a violation of international law, though Tehran maintains that the tests were conducted in accordance with UN regulations and to be used for defensive purposes.
The threat of new penalties came as the international community is working to lift sanctions related to Tehran's nuclear program. Following the nuclear deal agreed to by Iran and the P5+1 nations – China, Russia, the US, the UK, France, and Germany – the Iranian government has worked steadily to eliminate its uranium supplies.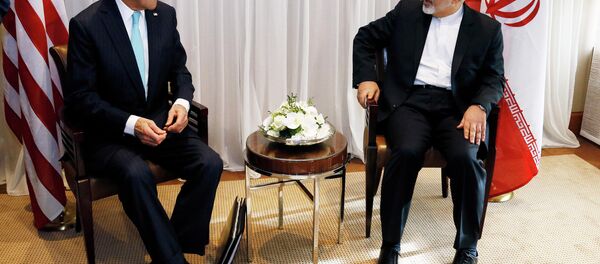 30 December 2015, 23:29 GMT
While US officials insisted that any fresh sanctions would be unrelated to the nuclear deal, Iran warned that new financial penalties would be viewed by Ayatollah Ali Khamenei as a breach of the agreement.
On Friday, the White House announced that it planned to delay the implementation of new sanctions. It remains unclear whether Tuesday's unveiling will reinvigorate calls for financial penalties.
Tehran has also recently accused Washington of violating the nuclear deal. Following the San Bernardino shooting in December, the US Congress passed laws requiring any foreign national who has visited Iran or Syria to obtain a visa before entering the United States. Iran claims the legislation could harm Iranian businesses and cut off access to foreign investment.