MOSCOW (Sputnik) — Earlier in the day, South Korean media reported an earthquake near the North Korean nuclear facility. Seoul suspects that Pyongyang has performed a nuclear bomb test. Later, North Korea confirmed that it had indeed tested a hydrogen bomb, which it said was a success.
"The North Korean nuclear program is implemented by the state, which has a common border with Russia. It is less than 700 kilometers [some 430 miles] from Pyongyang to [Russia's far eastern city of] Vladivostok. And any activities of North Korea in this area directly affect our country's national security," Kosachev wrote on his Facebook page.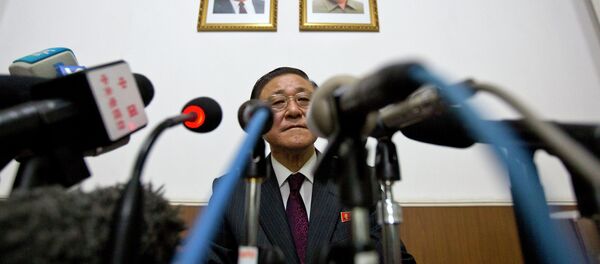 6 January 2016, 09:47 GMT
He added that the nuclear test would contribute to the deterioration of interstate relations on the Korean Peninsula.
In 2005, North Korea declared itself a nuclear power, and has conducted at least three underground nuclear weapon tests since then, raising concerns both in the neighboring states and worldwide.
On December 10, North Korean leader Kim Jong Un said the country had a hydrogen bomb and was ready to use it to "protect its sovereignty and national dignity."