Bahrain, a Saudi ally, recalled its ambassador from Tehran on Monday due to the diplomatic row. Saudi Arabia also cancelled all flights to and from Iran on Monday.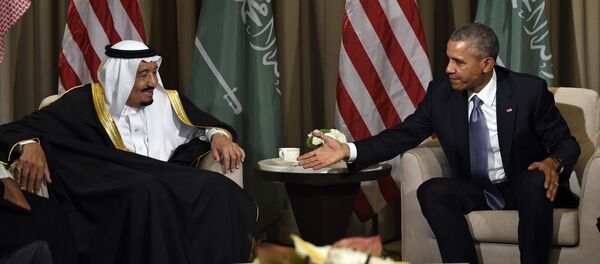 6 January 2016, 09:21 GMT
Last Sunday, Saudi Arabia cut diplomatic ties with Iran after protesters attacked its embassy in Tehran and the consulate in the city of Mashhad.
The protests occurred following the execution of a prominent Shia cleric Nimr al-Nimr in Riyadh on Saturday.
Radio Sputnik discussed the latest tensions between Riyadh and Tehran with an academic expert in Middle East politics and professor of international relations at the Center for Global Affairs at New York University – Dr. Alon Ben-Meir.
"Tensions between Saudi Arabia and Iran will continue to escalate at least verbally. In actuality this could have a tremendous impact on negotiations for a solution to the civil war in Syria; it will certainly aggravate the Sunni Shia conflict in Iraq, it may also escalate the fighting in Yemen between Saudis and Houthis who are supported by Iran," Ben-Meir told Sputnik.
The brother of the executed cleric has blamed Washington for letting the tragedy happen despite having opportunities to prevent it. In regards to that the expert said, "The United States appears to be leaning more in favor towards Iran and one of the reasons for that is the nuclear negotiation. The US does not see any justification for executing the cleric."
Talking further about the relations between the US and Iran, the expert said that since the US is not punishing Iran for testing two ballistic missiles that they recently tested, it seems that the Saudis themselves decided to take the matter into their own hands and demonstrate to the domestic audience that Saudi Arabia can take care of itself.
"The fact that the Saudis are not happy with the US position in connection to Iran has also played a role in the Saudi initiative to execute the cleric. It was a number of components. In a way the US trying to stay away from this conflict has contributed to the development of these events," Ben-Meir said.
He noted that in his opinion, the Sunni-Shia conflict may go on for decades to come and it will make it very difficult to reach agreement in Syria. It is because Saudi Arabia which represents Sunni Islam and Iran which represents Shite Islam are at odds with each other as both are fighting for hegemony in the region.
"There is no doubt that King Salman of Saudi Arabia had the final word for the execution of the cleric Nimr al-Nimr although they are not prepared to say it because they maintain the judicial process and that process works very well, and as their prime minister said that their legal system reached the decision for the sentence and hence it had to be carried out as was determined by the judges, they try to distance the judiciary from the king itself," the expert concluded.