WASHINGTON (Sputnik) — The split between Saudi Arabia and Iran over the execution of a Shiite cleric will likely lead to greater turmoil in the Middle East, Turkish Ministry for Foreign Affairs representative Mesut Ozcan said at a conference in Washington, DC on Wednesday.
"In the coming months, maybe we will have some more turmoil… unfortunately emanating from this," Ozcan said of the recent tensions between Saudi Arabia and Iran.
Ozcan noted that there would be attempts to overcome the division, "because it is also becoming very dangerous for both countries and at the same time for the region."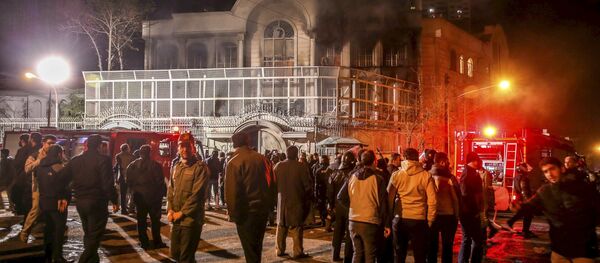 6 January 2016, 14:37 GMT
Continuing the international peace process in Syria should be "the first focus" of regional powers, including Iran and Saudi Arabia, Ozcan said, noting recent analysis that the talks could be "negatively affected" by the diplomatic row.
On January 2, Riyadh executed top Shiite cleric Sheikh Nimr al-Nimr, inciting a response in Tehran, where the Saudi embassy was stormed by protestors. On Monday, Saudi Arabia formerly severed diplomatic ties with Iran, and were joined by Bahrain, the United Arab Emirates, and Sudan.
Both Turkey and Russia have offered to diplomatically mediate talks between Saudi Arabia and Iran to deescalate the situation. Each nation is part of the Syria peace talks, which recently established a firm timetable for a political transition in the war-torn country.