"That's the problem — all of them want more," Breedlove said Monday during an interview in Germany, as cited by Stars and Stripes.
To fulfill their desires Breedlove said he would continue to push Washington for more US troops in Europe, the source said.
After the end of the Cold War, the United States significantly decreased the number of its troops in Europe from around 300,000 to about 70,000 now. According to the US General, these numbers are "inadequate" to provide for the security of the European continent.
Over the past year, Breedlove fought to bring in more US land, air and naval forces to Europe. The general also lobbied officials in the Pentagon to give him more intelligence-gathering assets.
"I am advocating for those, and we are in the middle of that process now. I am certainly a vocal advocate," he said.
Another top US military official, Ben Hodges, is also concerned about the Pentagon's military budget cuts for missions in Europe. According to Hodges, who is the US Army Commanding General in Europe, the US military lacks both equipment and manpower to carry out successful military operations in Europe.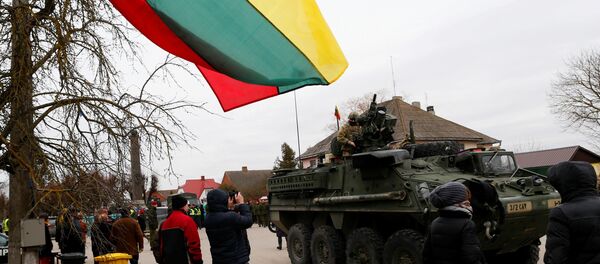 1 December 2015, 15:19 GMT
Meanwhile, others argue that the United States needs to stop paying the bill for providing security for European countries, especially because the chances of Russia invading Europe are virtually non-existent.
Doug Bandow, a senior research fellow at the Cato Institute, said that countries like Poland deliberately fuel the idea of the Russian threat to make the United States to station its troops on their territory at the expense of American taxpayers.
"The Europeans want to leave the dirty work of defending their continent to Washington," Bandow, who is also a former special assistant to US President Ronald Reagan, said, as cited by the National Interest.
That is why on this point Europeans need to learn to take care over their own security without relying on the United States to pay their bills.