The record number of arrivals — five times that of 2014 — included 428,468 Syrians, 154,046 Afghans, followed by 121,662 Iraqis. The number included just under 3,000 Moroccans and Algerians. The sheer volume had created a huge administrative backlog, the ministry admitted, which has reached over 470,000.
3200x365 = 1,168,000 more #Migrants #Germany Interior Ministry Official says some 3,200 people arriving every day & number has not declined

— Greig Markham (@BearGardenMan) January 7, 2016
1,091,894 migrants arrived in Germany in 2015, gov't says: 428,468 Syrians 154,046 Afghans 121,662 Iraqis 69,426 Albanians 33,049 Kosovars

— Anton Troianovski (@AntonWSJ) January 6, 2016
​​The German Government initially said it estimated the total number admitted into Germany in 2015 would be 600,000. By November, that was revised to 800,000. Now a source at the ministry said even that number was obsolete.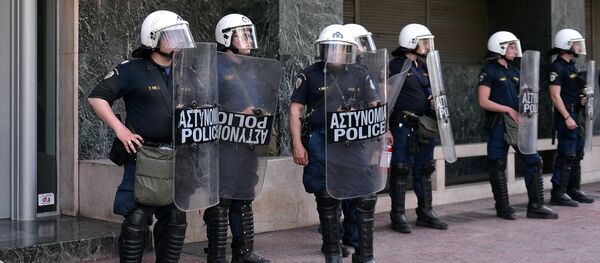 6 January 2016, 17:50 GMT
The ministry also admitted that the 1.1 million figure could include repeated registrations in different states as well as those who have subsequently moved out of Germany and into other member states, chiefly Sweden. Germany will only accept genuine refugees fleeing war zones and will send back economic migrants who want to leave countries at peace to enjoy a better standard of living.
The issue of refugees in Germany has triggered widespread anger within Germany with some refugee hostels being burned and a huge outcry after a series of mass sexual assaults and muggings carried out by groups of young males during New Year's Eve celebrations in Cologne.
​No Cap for Merkel
German Chancellor Angela Merkel has caused political anger within her own CDU/CSU coalition by refusing to set a cap on the numbers of refugees to be admitted into Germany this year. Horst Seehofer, leader of Bavaria's Christian Socialists (CSU), the Bavarian sister party to Merkel's Christian Democrats (CDU) and Minister-President of Bavaria has called for a maximum limit of 200,000 refugees to be accepted in 2016.
"From our past experience I can say Germany has no problem with an influx of 100,000 or at most 200,000 asylum seekers and refugees fleeing war," he said.
"This number is manageable and also allows for integration. Anything more than that I think is too much."
​However, Merkel's spokesman Steffen Seibert said: "This is not the chancellor's position," on Monday.
"We do not believe that a limit on refugee numbers can be achieved by one country acting alone."
Merkel has often said that Germany's doors were open to refugees as they would be of economic benefit to the country, which has a declining population. The German federal statistics office Destatis this week released figures which showed that the new influx of refugees has served to reverse the decline.
This Germany sexual assault situation is sad. I remember when the Germans emphatically welcomed the refugees last year. Now this

— Woke Professor Bae (@themaytrix23) January 7, 2016
​"The total number of persons in employment has now reached the highest level since German reunification," Destatis said in a statement. "Higher labor force participation of the domestic population and the immigration of foreign workers offset negative demographic effects."