Leader of the German Free Democratic Party Christian Lindner accused Chancellor Angela Merkel of inaction on the migrant issue and an improper migrant policy, according to the official website of the party.
With her actions, the German Chancellor has plunged Germany and Europe as a whole into chaos, the politician said.
Germany should not take single-handed decisions on solving the migrant issue, he added.
He also harshly criticized Merkel's famous words calling for people to support migrants: "We can do this." Lindner said the words cannot replace real actions needed from the government. The only way to resolve the crisis is an immigration law systematizing registration of migrants and contributing to their legal integration.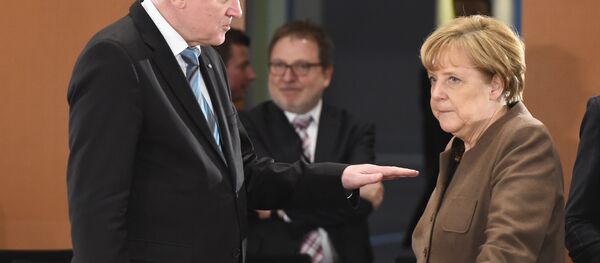 6 January 2016, 15:23 GMT
Politicians of the ruling German coalition have repeatedly called for Merkel to introduce limits for the influx of refugees coming to Germany. However, Merkel has refused to limit the number of migrants which would close the German borders for new-comers.
Earlier, German broadcaster ZDF conducted a weekly ZDF-Politbarometer phone survey on the migrant issue. The majority of the respondents (52 percent) assessed Merkel's efforts on the crisis as rather bad. In addition, 74 percent of them said that the migrant crisis is a threat to the European unity.
According to the latest data from Frontex, nearly 1.2 million migrants came to Europe in the first ten months of 2015. The European Commission considered the ongoing crisis the biggest since the World War II era.