MOSCOW (Sputnik) — "The UN welcomes today's approval from the Government of Syria to access Madaya, Foah and Kefraya and is preparing to deliver humanitarian assistance in the coming days," the statement said.
The organizations added it was concerned over the plight of about 400,000 people in the cities of Deir Ez-Zor, Daraya, Foah and Kafraya, besieged by the conflicting parties, as well as in the besieged areas of East Ghouta region of  the rural Damascus.
"Almost 42,000 people remaining in Madaya are at risk of further hunger and starvation. The UN has received credible reports of people dying from starvation and being killed while trying to leave," the statement said.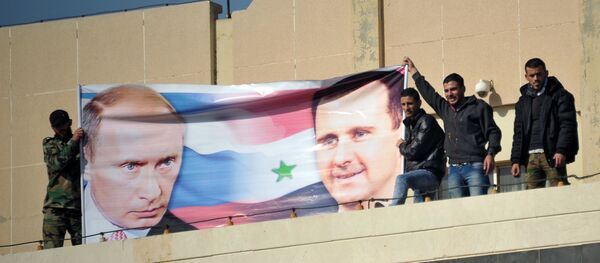 7 January 2016, 06:36 GMT
In December 2015, the United Nations, in partnership with the Syrian Arab Red Crescent (SARC), and the International Committee of the Red Cross (ICRC) evacuated more than 450 civilians from areas besieged by militants in Syria under a ceasefire deal reached with the government.
According to the UN, some 4.5 million people in Syria live in hard-to-reach locations, and about 400,000 of them live in the besieged areas.
Syria has been in a state of civil war since 2011, with government forces fighting several opposition factions, including the notorious Daesh (Islamic State), outlawed in Russia and many other countries. Around four million people have fled the conflict-torn country since then, according to UN estimates.