WASHINGTON (Sputnik) – On Wednesday, North Korea claimed it had successfully detonated a hydrogen bomb. Based on seismic data, many analysts speculated that the weapon was a boosted-fission bomb, in which a radioactive form of hydrogen is placed in the core of an atomic bomb.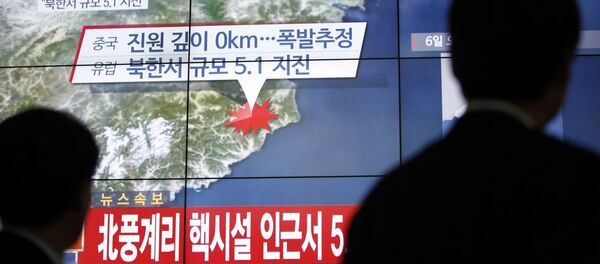 7 January 2016, 03:53 GMT
According to the White House, Obama said after talks with Abe that the United States would ensure the security of its allies and agreed to work together with Japan "to forge a united and strong international response to North Korea's latest reckless behavior."
According to a Japanese official cited by Nikkei Asian Review on Thursday, the 20-minute talks were initiated by Japan, which expressed concern over the "grave security threat" posed by Pyongyang's nuclear activity.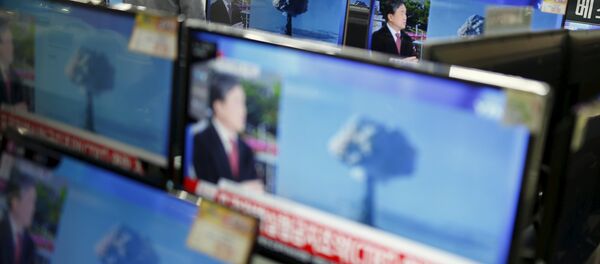 7 January 2016, 02:42 GMT
Earlier on Thursday, US Secretary of State John Kerry held a telephone conversation discussing North Korea's nuclear test with Japanese Foreign Minister Fumio Kishida.
Kerry said after the talks that North Korea's "highly provocative act poses a grave threat to international peace and security and blatantly violates multiple UN Security Council resolutions."
Kishida told reporters as cited by Nikkei Asian Review that Kerry had said that North Korea must pay the price for its action.
North Korea withdrew from the Nuclear Non-Proliferation Treaty (NPT) in 2003 and conducted nuclear tests in 2006, 2009 and 2013.
The United States, Japan and South Korea, as well as Russia and China, took part in talks on the denuclearization of the Korean peninsula with North Korea between 2003 and 2007. Pyongyang withdrew from the Six Party talks in 2009, announcing the resumption of its nuclear weapons program and expelling nuclear inspectors from North Korea.