MOSCOW (Sputnik) — Ethiopian security forces have killed at least 140 people during the eight weeks of ongoing protests in the Oromia region, an international human rights group said.
"Security forces have killed at least 140 protesters and injured many more, according to activists, in what may be the biggest crisis to hit Ethiopia since the 2005 election violence," the Human Rights Watch dispatch said, published on its website Thursday.
Triggered in mid-November by government plans to expand the country's capital Addis Ababa into the surrounding territories, protests by student activists, farmers and other residents from the region's Oromo ethnic majority have resulted in multiple shootings, beating and arrests by security forces, according to witnesses quoted by HRW. The organization's mid-December report said at least 75 people were dead within the first month of clashes.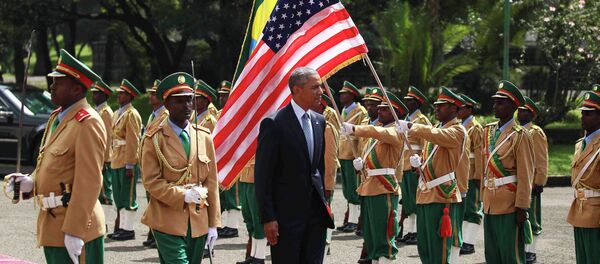 The crisis escalated further on December 23, when Ethiopian authorities arrested Bekele Gerba, deputy chairman of the Oromo Federalist Congress, confining him in the Maekalawi prison known for torture and other human rights abuses.
Oromia, which is Ethiopia most populous state, suffers from systematic political repression and lack of freedom of association, according to HRW. The recent master plan to expand Addis Ababa into surrounding Oromo-populated countryside sparked fears of unfair farmland confiscations and informal settlement marginalization.