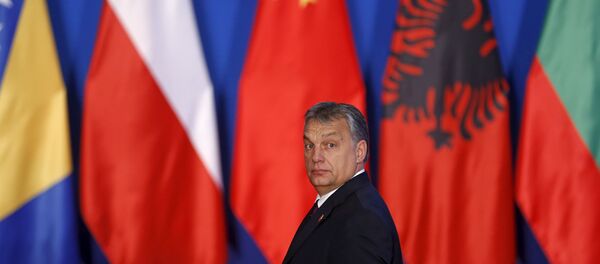 14 December 2015, 15:25 GMT
European Union leaders have agreed to pay Turkey US$3.4 billion and allow visa-free EU travel for its citizens in return for Ankara doing its utmost to stem the tide of asylum-seekers crossing its borders to reach Europe. 
The deal also includes a promise of expediting negotiations over Turkey's accession into the European Union, but AK Party spokesman Omer Celik said the US$3.4 billion should not be seen as a matter of "political briery".
However, Orban — who has gained popular support for his tough stance on refugees and was quick to erect razor wires fences along Hungary's borders in September 2015 – says he does not believe the Turkish plan will be sufficient to deal with the refugee crisis. Orban told public radio in an interview:
"I think the next line of defense that we need to build up lies on the northern border of Greece. I do not think that the deal with Turkey will be sufficient in itself."
EU Delegation to Ankara
His views were echoed Friday by EU sources who said officials will travel to Ankara on January 10 for talks over what is perceived to be Turkey's slow progress in stemming the flow of refugees crossing into Greece.
Lesbos, Greece Population: 90,000 Refugees passing through: 450,000

— ian bremmer (@ianbremmer) January 5, 2016​
The United Nations refugee agency UNHCR reported that, on average, 3,333 migrants arrived in Greece every day in December. Although this was a drop on previous months, the agency said it was more attributable to bad weather than to any action taken by the Turkish authorities.
Dimitris Avramopoulos, European Commissioner for Migration, Home Affairs and Citizenship, admitted the slow progress on the Turkish deal, as well as the relocation of refugees from Greece and Italy. In a newspaper article for New Europe newspaper this week he wrote: "Unfortunately, things have been moving too slowly".
"While Member States agreed back in October to relocate 160,000 people in need of protection, today less than 2% of the agreed number of refugees has actually been relocated so far, and only two of the 11 Support Teams meant to be deployed in 'hotspot' areas are operational in Lampedusa and Lesvos."
First Vice-President of the European Commission Frans Timmermans – who has been leading discussions with Ankara and is due to hold talks there on January 11 – has expressed concern at the number of refugees still entering the EU via Turkey.
No more people seeking protection should lose their lives. 2016: Cooperation w/ Turkey, fight smuggling & open legal channels #refugeecrisis

— DimitrisAvramopoulos (@Avramopoulos) December 24, 2015​
"We are a long way from being satisfied," he said. "Of course we need to do more… the only benchmark, of course, are the figures going down. We are all committed as part of the joint action to bring the numbers substantially down, and it is quite clear that over the last few weeks the figures have remained relatively high."