NBC News obtained emails written by Snyder's former Chief of Staff Dennis Muchmore to the health department stating that he was frustrated by the water issue.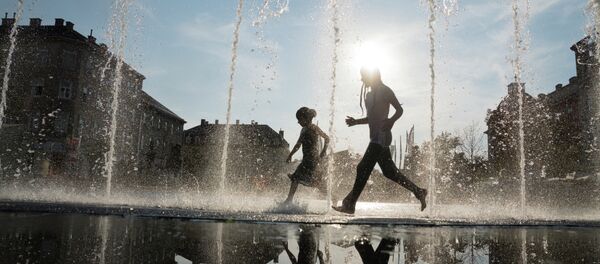 16 December 2015, 03:17 GMT
"These folks are scared and worried about the health impacts and they are basically getting blown off by us (as a state we're just not sympathizing with their plight)," Muchmore wrote in the email.
"I really don't think people are getting the benefit of the doubt," Muchmore continued. "Now they are concerned and rightfully so about the lead level studies they are receiving."
The problem with Flint's water began in April 2014, when the city stopped receiving Detroit's water supply and instead began using the water from the Flint River, which has a high salt content. The corrosive salt ultimately corroded the lead in the pipes and caused the water to be contaminated.
Marc Edwards, a professor at Virginia Tech who has been testing the water in Flint and obtained and provided the emails to NBC, told the station that if action was taken early on, the problem could have been fixed for as little as $100 a day.
"There is no question that if the city had followed the minimum requirements under federal law that none of this would have happened," said Edwards.
Yet, for half a year nothing was done, and it was not until this week that Snyder issued a state of emergency, declaring on Tuesday, "the health and welfare of Flint residents is a top priority and we're committed to a coordinated approach with resources from state agencies to address all aspects of this situation."
The Department of Justice also announced this week that they are launching an investigation into the issue.
The city switched the water supply back in October and began treating the pipes, but significant damage has already been done.

Horrifically, the effects of lead-poisoning cannot be reversed and researchers at the nearby Hurley Children's Hospital have already identified "rise in blood lead levels of children less than 5 years old" living in the area since the water change.
"Young children are particularly vulnerable to the toxic effects of lead and can suffer profound and permanent adverse health effects, particularly affecting the development of the brain and nervous system," the World Health Organization explains.
Pediatrician Mona Hanna-Attisha has been studying the rise in children's lead levels and reports they have doubled or even tripled since the water supply was switched.
"In five years, these kids are going to have problems with special education. They're going to have cognition problems," Hanna-Attisha told NBC. "Seven to 10 years, they're going to have behavioral problems."