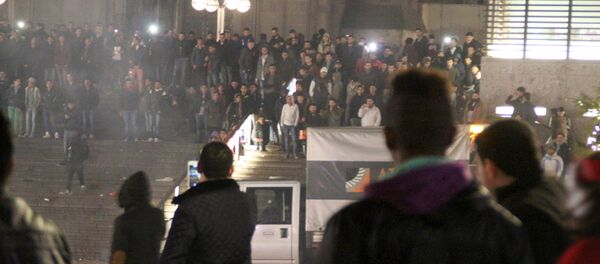 8 January 2016, 07:39 GMT
Among women the figure was even higher – 37 percent, compared to 21 percent among men.
Two-thirds of respondents said their behavior would not be affected by the Cologne events.
Eighty-two percent said they would like to have more video surveillance in public places, while 17 percent said they wouldn't.
Meanwhile, Germans have been lining up for means of self-defense with pepper spray balloons selling like hot cakes as people are desperate to feel safe, Die Welt wrote.
"Unlike the prevalent sense of personal insecurity we had only recently, more and more people are now saying point blank that they feel scared for themselves and their near and dear," Helmut Kremser, the owner of a store selling personal defense items in Lower Saxony, told the newspaper.
Cologne police said on Tuesday that ninety criminal incidents, many involving sexual assaults, were reported following New Year's Eve celebrations in the city.
The victims described the attackers, as gangs of intoxicated Arab or North African men, presumably refugees, between the ages of 15 and 35.