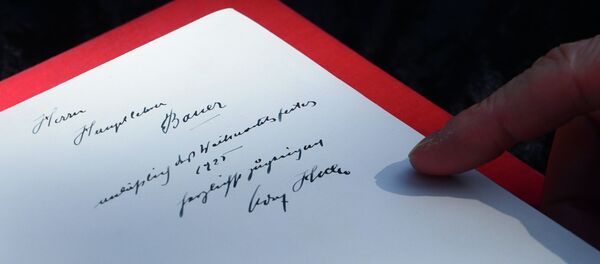 2 January 2016, 04:45 GMT
Originally printed in 1925, Hitler's anti-Semitic manifesto outlined the author's ideology of future wars, the need to grab neighboring territory and the goal to make Third Reich the undisputed master of the world.
Following the German defeat in 1945 the victorious Allies handed the book's copyright to Bavaria whose authorities had since refused to let it be reprinted in order to spare the Nazi victims' feelings and prevent incitement of hatred. 
With the copyright having run out publishers will now be able to reprint Hitler's original text.
"I'm not afraid that far-right activists will come to us or come in general. Of course, the book is available for them here but the text has at least 3,500 footnotes which do not contain any single aspect of Hitler's ideology unexplained. This annotated version of the book won't be fun to any of the right-wing activists," said Michael Lemling, the managing director of Lehmkuhl bookstore in Munich.
Education Minister Johanna Wanka has argued that such an annotated version should be introduced to all classrooms across Germany to ensure that "Hitler's comments do not remain unchallenged."
"Pupils will have questions and it is only right that these can be addressed in classes," she said.
But the Jewish community questioned the need to spread the Fuhrer's inflammatory rant again.
Ronald Lauder, president of the World Jewish Congress, told AFP that Holocaust survivors would be offended by the sale of the anti-Semitic work in bookstores.
"Unlike other works that truly deserve to be republished as annotated editions, 'Mein Kampf' does not. Now it would be best to leave 'Mein Kampf' where it belongs: the poison cabinet of history," he emphasized.