WASHINGTON (Sputnik) – On April 18, US District Court for the Southern District of Texas proceedings will begin in the case of TransCanada Corporation against US Secretary of State John Kerry for Obama's denial of the Keystone XL pipeline.
"Fortunately, it seems that even if TransCanada succeeds, President Obama's decision would not be reversed," Coleman said.
On Wednesday, TransCanada filed a Notice of Intent to initiate a claim under Chapter 11 of the North American Free Trade Agreement (NAFTA) after Obama denied the pipeline. The company seeks to recover over $15 billion in damages.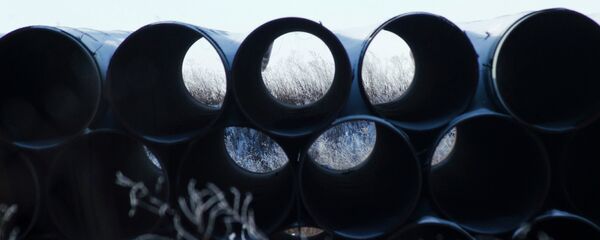 7 January 2016, 19:13 GMT
"This lawsuit is a desperate attempt to circumvent the laws and regulatory processes of the United States," Coleman stated. He added that lawsuits like TransCanada's were perfect examples of companies trying to circumvent US environmental laws.
Coleman also noted that the US should be wary of signing trade deals like the Trans Pacific Partnership agreement that empower corporations to sue governments over environmental policies that polluting industries do not agree with.
On November 6, Obama rejected construction of the Keystone pipeline, which was expected to bring more than 300,000 barrels of oil daily to US refineries. Proponents argued that the Keystone initiative would create jobs and reduce US dependency on foreign oil imports from unstable countries.