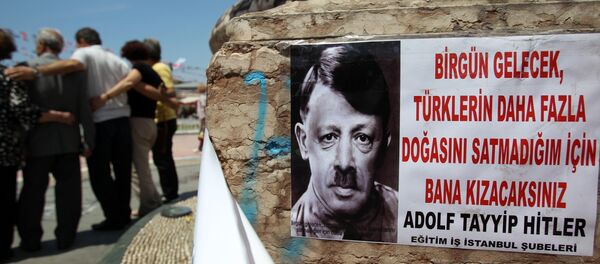 5 January 2016, 14:19 GMT
The two-volume German political treatise, written by Hitler between 1924 and 1926 while in prison after his failed coup, became a bestseller in the 1930s when he came to power. By the end of World War II in 1945, as many as 12 million copies of the manuscript had been sold. Under Hitler's dictatorship the text was translated into 18 languages, but the Allied powers banned its publication and circulation in Germany after the war.
With the expiration of the 70-year copyright the forbidden work has been reprinted by the Munich Institute for Contemporary History. The head of the institute, Andreas Wirsching, said he wasn't expecting such a high demand for the book, which appeared on German bookstore shelves on Friday, Reuters reported.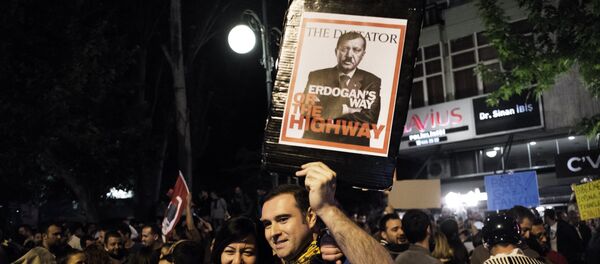 3 January 2016, 10:33 GMT
There have already been requests for some 15,000 copies (against a print run of just 4,000), and translations into Italian, French and English. There has also been demand for Hitler's manifesto from Turkey, China, South Korea and Poland, Wirsching told reporters on Friday.
Focused on an alleged global Jewish conspiracy, Mein Kampf is regarded as one of the Nazis' main propaganda tools. Thus, the news about re-issuing the work provoked controversy in Germany, which is still struggling with its Nazi past and its role in the deaths of over 6 million Jews during the Holocaust.
Several German Jewish community leaders argued that the "anti-Semitic diatribe" still poses a threat and should remain prohibited, but the institute defended the new 2000-page scholarly edition, saying that about 3,500 comments were added to the text, unveiling the truth behind Hitler's rant.
"The edition unmasks Hitler's false allegations, his whitewashing and outright lies," Wirsching said.
Co-editor of the edition, Christian Hartmann, said the book is more of a symbol than a historical source and that the publishers aimed at "dismantling that symbol once and for all."