Two years after the US-fomented coup, Ukraine continues "to wallow in graft and cronyism" while the living standards for ordinary Ukrainians is plummeting at steady pace, US investigative journalist Robert Parry remarks.
Ukraine's GDP has been falling since the February 2014 coup. So-called "economic reforms" propagated by the International Monetary Fund have exhausted the country by slashing pensions, energy subsidies and many other social programs.
"The hard lives of most Ukrainians have gotten significantly harder while the elites continue to skim off whatever cream is left, including access to billions of dollars in the West's foreign assistance that is keeping the economy afloat," Parry writes in his recent article for Consortiumnews.com.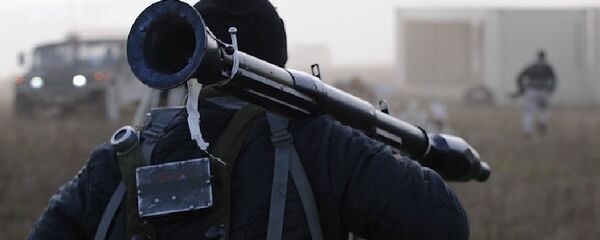 7 January 2016, 18:32 GMT
In light of this more than 50 percent of Ukrainians now call corruption as a major problem facing the country, according to International Foundation for Electoral Systems (IFES).
The latest IFES' poll conducted in September 2015 in all regions of Ukraine outside Donbass indicated that "more than half of all Ukrainians (56%) believe the country is headed in the wrong direction while only 20 percent believe it is headed in the right direction."
"Corruption is mentioned as a critical issue by 53 percent, while a number of economic issues are also mentioned (inflation 56 percent, poverty 42 percent, unemployment 35 percent, external debt 11 percent, and general economic problems 30 percent)," the IFES report reads.
Furthermore, 40 percent of respondents admitted having made some form of bribe for a public service over the past twelve months.
What makes matters even worse is that those Kiev officials who ought to fight corruption are reportedly involved in dirty financial schemes themselves.
"The controversy over [Prime Minister] Yatsenyuk's alleged cronyism led to an embarrassing moment in December 2015 when an anti-Yatsenyuk lawmaker approached the podium with a bouquet of roses, which the slightly built Yatsenyuk accepted only to have the lawmaker lift him up and try to carry him from the podium," Parry narrates with a trace of irony.

7 January 2016, 13:02 GMT
Despite the Western all-out propaganda campaign regarding Ukraine's democratic achievements, "reality is not always easily managed," the US investigative journalist underscores, adding that the truth eventually finds a way out.
Even Ukraine's American "curators", such as Vice President Joseph Biden, or US-backed Ukrainian Financial Minister Natalie Jaresko are by no means blameless themselves.
Indeed, Natalie Jaresko was involved in dubious enrichment schemes while being the owner of Horizon Capital, Parry notes, adding that US mainstream media "has turned a blind eye to this history, all the better to pretend that Ukraine's 'reform' process is in good hands."
As for Joseph Biden, it is no secret that his son Hunter was appointed to the board of directors of Ukraine's largest private gas firm, Burisma Holdings, just three months after the February coup of 2014.

6 January 2016, 12:58 GMT
"Burisma — a shadowy Cyprus-based company — also lined up well-connected lobbyists, some with ties to Secretary of State John Kerry, including Kerry's former Senate chief of staff David Leiter, according to lobbying disclosures," Parry elaborates.
The success story of Ukraine's "democratic revolution" is falling apart at the seams as the country risks becoming just another failed state, being torn by greedy politicians and foreign plutocrats.
"Even though the fuller truth about Ukraine has never reached the American people, there comes a point when even the best propagandists have to start modifying their rosy depictions. Ukraine appears to have reached that moment," the investigative journalist concludes.