Cropsey now serves as director of Hudson Institute's Center for American Seapower.
Currently, the US naval fleet consists of 272 ships, half its size 30 years ago. The Navy's plan to expand the fleet to 308 vessels is unlikely to be fully implemented. The Pentagon ordered to cut the number of future ships and modernize the existing fleet instead.
Meanwhile, as Cropsey wrote, the large number of ships is the key element of deterrence. He said the US needs 350 ships to counter rising global dangers.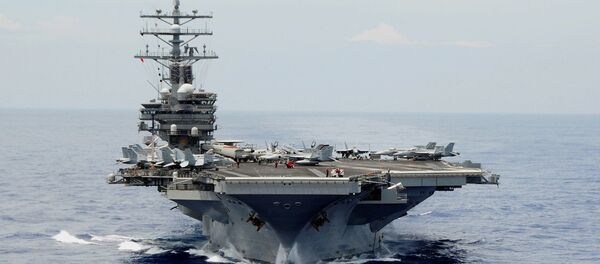 5 January 2016, 20:11 GMT
For instance, the number of aircraft carriers should be increased from 11 to 16. A total of 100 large surface ships, destroyers and cruise ships would be necessary to protect the aircraft carriers. The number of supply vessels should be halved, to 58, the analyst wrote.
According to him, the number of small warships should not be decreased from 52 to 40 as the Pentagon plans, but 30 more ships of this type are needed.
He also commented on submarines. According to Pentagon estimates, by 2020, the US and China will have 70 submarines in service each. Despite the fact the US will have the upper hand in quality, it will need 90 submarines for nuclear deterrence and other purposes, Cropsey wrote.
The build-up of maritime presence by Russia, China and Iran in the Mediterranean as well as the siege of the Libyan coastal town of Sirte have proved the need for US amphibious ships in the region, as it was in the Cold War era, the article in The Wall Street Journal read.
Cropsey underscored that the US naval presence in the Mediterranean would require 45 ships.
According to the analyst, to ramp up the US Navy, $24 billion is needed annually, a 45-percent rise in spending.
This is expensive, but it is less costly than losing US naval dominance. And the threat is real, taking into account the build-up of the Chinese fleet, Cropsey concluded.