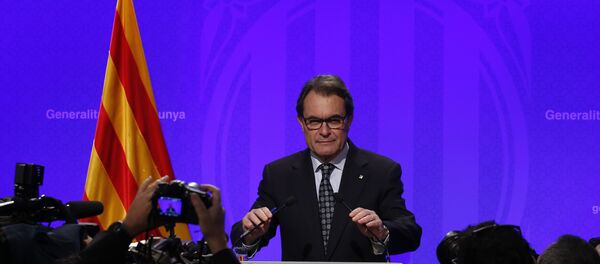 5 January 2016, 14:58 GMT
MADRID (Sputnik)
–
On Sunday, the Catalan parliament validated Puigdemont's appointment as the region's president. Later that day, the new leader announced a road map for the secession process, which stipulated the adoption of relevant laws, the creation of state structures and the holding of a referendum on a new constitution.
The new president of Catalonia also said that the region was ready to accept refugees.
On January 3, Artur Mas, who has led the autonomous community since 2010, and his pro-independence Junts pel Si (Together for Yes) coalition failed to reach an agreement with Popular Unity Candidacy (CUP) party after CUP decided not to support the regional government led by Mas. The move paved the way for the dissolution of parliament and a new election.
On Saturday, Mas refused to run for the head of the Catalan government in order to avoid early elections.