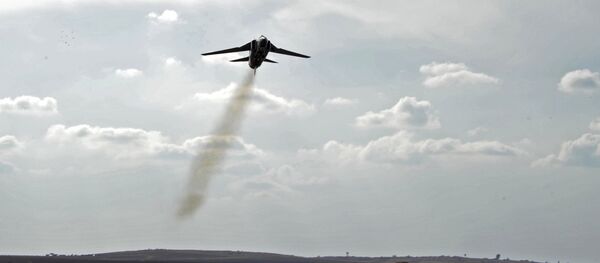 11 January 2016, 05:48 GMT
Russian combat aircraft carried out over 300 missions in Syria since the beginning of 2016, hitting about 1,100 terrorist targets in ten provinces, the Russian General Staff said Monday.
"With the help of the Russian aviation the Syrian Democratic Forces under the command of Ayman Flyat al-Ganim continue the advance on the Daesh capital — Raqqa. They have taken control over al-Salhiya, Rdzheman-Alaia, el-Qria and Hadriyat-Ayn-Isa,"Rudskoy said. 
Terrorist groups operating in Syria continue to receive reinforcements coming through Turkey, despite all efforts by the global community the Russian General Staff announced. 
"However, despite all the efforts by the international community to stop supplies to terrorists, reinforcements continue to reach regularly northeastern Latakia from the Turkish territory," Rudskoy said.    
"Russian jets are striking the terrorists' strongholds in Syria. We have conducted 311 sorties and destroyed at least 1,097 targets in the provinces of Aleppo, Latakia, Homs, Damascus, Deir-er-Zor, Hasakah, Daraa and Raqqa," Rudskoy said.
"As a result of the Russian airstrikes the terrorists continue to suffer losses", head of the General Staff of the Russian Armed Forces Sergei Rudskoy added.  
Over 150 towns and villages in Syria have been freed over the last 1.5 months thanks to the support provided to Syrian troops by Russian aviation, the Russian General Staff said Monday.
Russian jets have supported 11 different democractic militia forces in their advance against terrorist positions.
"We support people's militia who are fighting against terrorism in Syria. Today our bomber jets strike to help the Democratic opposition in their advance," the head of the General Staff said. 
"In December 2015, militants were driven out of 134 towns and villages, and from another 19 during the first days of this year. The most success has been reached in the regions of Aleppo, Latakia, Hama, Homs and Raqqa," Lt. Gen. Sergey Rudskoy, chief of the Main Operational Directorate of the General Staff of the Russian Armed Forces, said.   
The general also added that the Syrian army regained control over 6 key positions in Latakia.
The airstrikes mainly targeted terrorist infrastructure, oil facilities, large groups of militants and military equipment with the goal to provide effective support to Syrian army units and groups of patriotic opposition fighting Islamic State (Daesh in Arabic) on the ground. 
Syria has been torn by a civil war since 2011, as government forces have been clashing with opposition factions and extremist groups operating in the country.
Since September 30, Moscow has been conducting pinpoint airstrikes in Syria on the positions of Islamic State (Daesh), a terrorist group outlawed in Russia and many other countries, at President Bashar Assad's request.
The Russian forces coordinate their actions with the Syrian army which is operating on the ground. The Syrian Armed Forces have repeatedly hailed the Russian air campaign, saying the airstrikes have inflicted irreparable damage on the terrorists in Syria.