Lawyers acting on behalf of the Campaign Against Arms Trade (CAAT) have stepped up legal proceedings against the government, accusing officials in London of failing in its legal duty to prevent and condemn breaches of international humanitarian law.
In a legal letter, CAAT experts warned that a failure to halt current arms export contracts to Saudi Arabia, along with the decision to continue granting new export licenses for weapons, is unlawful, as the weapons could be used in the Saudi-led coalition's military campaign in Yemen.
The letter, intended for the Department for Business, Innovation and Skills, cites Article Two of the EU Council Common Position on arms sales, which states that member states must deny export licenses if there is "a clear risk" that the equipment may be used in the violation of international law.
"UK weapons central to bombing campaign that has killed thousands of people, destroyed vital infrastructure and inflamed tensions in region"

— Julia Macfarlane (@juliamacfarlane) January 10, 2016​
Experts argue that this would certainly apply to Britain, given that the Saudi-led international coalition has been accused of breaching international law on numerous occasions during its nine-month military offensive in Yemen.
In a report released by campaigners Human Rights Watch in November, the coalition was accused of killing more than 300 civilians in Yemen in illegal strikes, while just last week Riyadh was accused of war crimes after allegedly dropping cluster munitions into residential areas.
UK Foreign Office minister Tobias Ellwood said British-made weapons were "probably" being used in the Saudi offensive in Yemen, while Amnesty International's December report alleged that a British-made cruise missile struck a civilian ceramics factory in a village near the capital Sanaa, killing one person.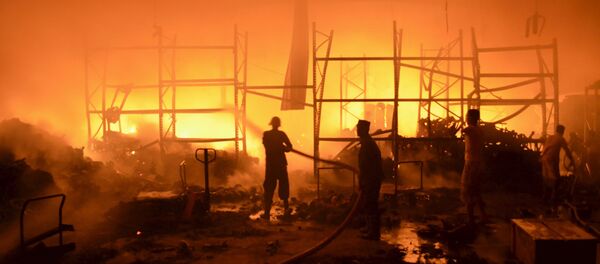 8 January 2016, 12:54 GMT
UK Given 14-Day Deadline to Halt Arms Exports
Lawyers for CAAT have given the British government a 14-day deadline to suspend export licenses to Saudi Arabia, and have called for a review of the UK's licensing criteria and international law obligations.
CAAT have warned that if the government fails to respond to the request, then it will initiate legal proceedings in the High Court, where the government would need to explain what steps it has taken to prevent British-made weapons from being used in incidents that may have breached international law.
Rosa Curling, representative from the human rights team at Leigh Day, which is representing CAAT, said: "The UK government is under a clear legal obligation to ensure any military equipment and/or technology exported from this country to another, is not being used in breach of international humanitarian law.
"Given the widespread and credible evidence that the Saudi authorities are breaching their international obligations in Yemen, we can see no credible basis upon which the UK government can lawfully continue to export arms to them."
 Andrew Smith from CAAT accused the UK of being complicit in the alleged breaches of international law.
"UK weapons have been central to a bombing campaign that has killed thousands of people, destroyed vital infrastructure and inflamed tensions in the region. The UK has been complicit in the destruction by continuing to support airstrikes and provide arms, despite strong and increasing evidence that war crimes are being committed."
The legal action is also set to place more strain on UK-Saudi bilateral relations, with increased pressure from parliamentarians and activists for the UK to be more transparent in its relationship with the Gulf kingdom, given its poor human rights record.
The UK government hasn't commented on the latest developments, but has defended the country's relationship with Saudi Arabia in the past, saying that the UK's national security is largely dependent on information received from its counterparts in Riyadh.