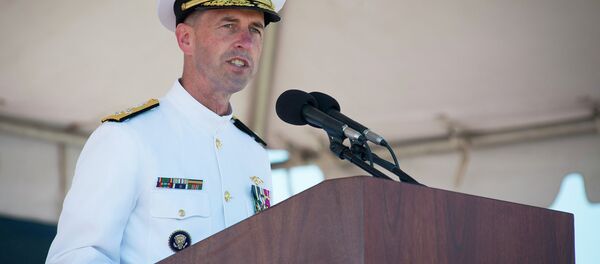 11 January 2016, 19:32 GMT
WASHINGTON (Sputnik) — The US Navy will look into improving its ability to respond to military contests at sea, Chief of Naval Operations Admiral John Richardson said in a National Press Club speech.
"We are going to strengthen our naval power at and from the sea. —the key word there is 'at the sea'," Richardson stated on Monday. He added that the Navy must work to "sharpen our skills for operations and conflict at sea."
Richardson addressed concerns about the vulnerability of the US surface fleet to attacks from advanced missiles deployed by adversaries.
The admiral noted he is confident the US surface fleet and aircraft carrier fleet is "as relevant and important today as it has ever been," but added that the United States will have to adapt to new threats.
Both Russia and China have developed advanced long-range guided missile arsenals over the course of their military modernization efforts. The Chinese and Russian missiles are seen to pose a threat to US surface assets. In response, the US Navy has begun work to deploy a new long-range anti-ship missile, fired from an aircraft, and ship-based air defense systems.