WASHINGTON (Sputnik) — "The Vice President and Prime Minister agreed on the importance of continued implementation of the Przino Agreement and taking the actions necessary to ensure credible elections," the read out stated on Monday.
The democratically-elected Gruevski has defied months of protests from the opposition Social Democratic Union of Macedonia (SDSM), and remains popular with the Macedonian public.
But Gruevski is being forced to step down on January 15 according to the Przino Agreement, which was effectively imposed on Macedonia by the United States and the European Union.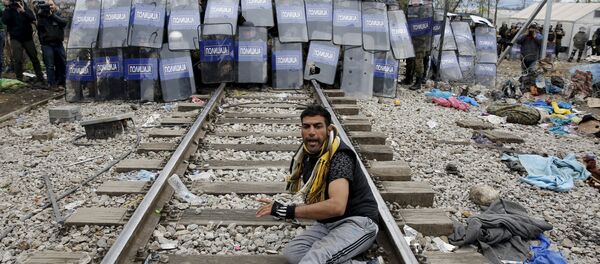 7 December 2015, 17:02 GMT
The Przino Agreement calls for holding new elections in April, creating a new Special Prosecutor parallel to Macedonia's existing prosecutor's office and filling in several ministerial posts with interim, also known as "technical," opposition candidates — in particular at the Ministry of Internal Affairs.
While the Gruevski government has complied with all the points of the agreement, the opposition SDSM has repeatedly stated it may not participate in the April elections or has sought to delay them as much as possible, thus creating the basis for a dangerous power vacuum.
Gruevski's ruling VMRO-DPMNE party has decisively won in the last nine elections. All polls have shown that VMRO-DPMNE leads among likely voters by wide margins.
"[A]nalysts were curious what is it that keeps Gruevski in power… But the answer is simple. The people keep Gruevski in power. Yes, the people who elected him," a report by MINA said.
Biden emphasized the United States' continued support for Macedonia's Euro-Atlantic integration, the read out said.