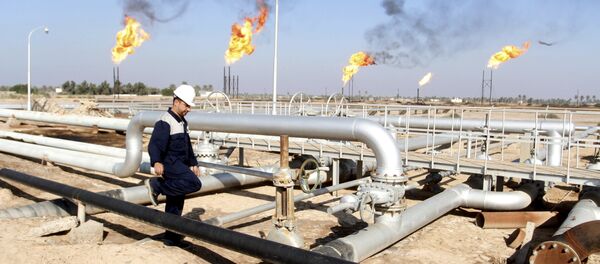 11 January 2016, 15:08 GMT
WASHINGTON (Sputnik) — The collapse of oil prices and continuous attacks by Daesh are undermining the Iraqi economy, International Monetary Fund (IMF) said in a press release on Tuesday.
"Iraq is facing a double shock arising from ISIS [Daesh] attacks and the sharp drop in global oil prices," the press release stated.
The IMF explained that the conflict with the Daesh — a terrorist group also known as Daesh that is outlawed in Russia and other countries — hurts the non-oil sector of the Iraqi economy, while the oil price decline has impacted the budget and the external sector, along with Iraq's medium-term growth potential.
"Under improved security conditions, the macroeconomic scenario would continue to be driven by the expansion in oil revenue, assuming implementation of oil investment to increase oil production, and by fiscal adjustment," the release noted.
The IMF added, however, that risks associated with further fall in oil prices, worsening of the conflict, political tensions and poor policy implementation, remain very high.