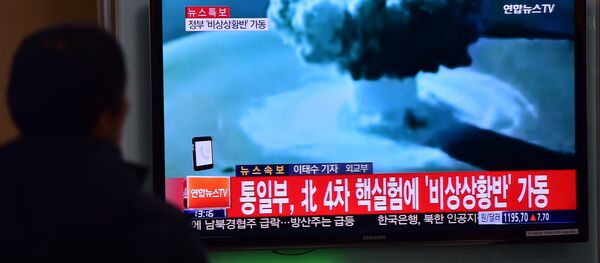 11 January 2016, 12:30 GMT
TOKYO (Sputnik)
–
Tokyo, Washington and Seoul are set to unite in the face of threats from North Korea, which allegedly conducted a nuclear test earlier this month, Japanese Foreign Minister Fumio Kishida told reporters on Tuesday.
"The idea is to confirm the trilateral cooperation on North Korea," Kishida told reporters, commenting on the planned meeting of senior diplomats from Japan, the United States and South Korea in Tokyo on January 16.
Earlier this month, the South Korean Foreign Ministry announced that the meeting would be attended by First Vice Foreign Minister of South Korea Lim Sung-nam, US Deputy Secretary of State Anthony Blinken and Vice Minister of Foreign Affairs of Japan Akitaka Saiki.
On January 6, Pyongyang claimed it had carried out its first hydrogen bomb test, which triggered condemnation from the international community that denounced the test as provocative and undermining stability in the region.