The RS1A3 Mini Rex is a light tactical robot designed by Lobaev Robotics. The robot can be used in search and rescue operations, counter-terror missions, and provide fire support in assault and other types of police and urban operations.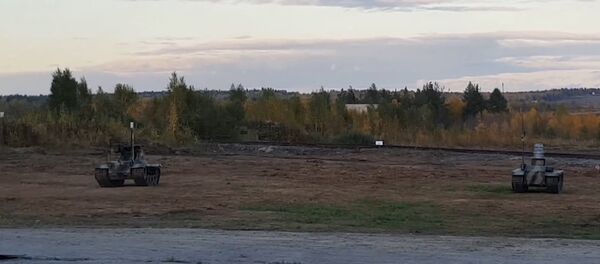 7 January 2016, 11:22 GMT
As specified on the manufacturer's website, the robot can confidently climb stairs and it is fairly light and small making it possible to carry it in a backpack. The robot is equipped with a robotic arm, which can lift weights.  It can peak into windows of a room or a parked car. It can fire different types of ammunition and work in dust, rain and snow.
The weight of the robot is 23 kilograms. It is equipped with a laser scanner and once charged the robot may operate for 4 to 15 hours to conduct surveillance.
The module equipped for combat fire has a base caliber of 7.62x39 mm, a barrel length of 200 millimeters in the assault version and 400 millimeters in the universal version.
The robot can fire both lethal and non-lethal ammunition in either semi-automatic or automatic mode.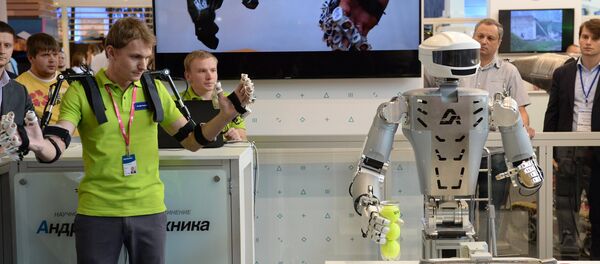 12 January 2016, 14:08 GMT
The foreign media have already called the Russian robot 'controversial.' According to German magazine Spiegel Online, in July of last year an open letter signed by more than a thousand experts was published. The letter was a warning against the use of autonomous weapons systems, which are free to decide when to pull the trigger. Among the critics of such weapons was the famous scientist
Stephen Hawking
.
"Currently, the robot developed by Russian manufacturers is controlled remotely, but the transition to autonomous control of such a weapon is often blurred," the publication wrote.
However, not all experts agree that autonomous military robots will create problems during the conduct of hostilities. There are those who believe that the machines can, in some situations be more 'ethical' than the man whose actions depend on the emotion — hatred, revenge or fear.
Opponents of this approach argue that the robot will act "without compassion," and will not be able to respond flexibly to all possible changes.