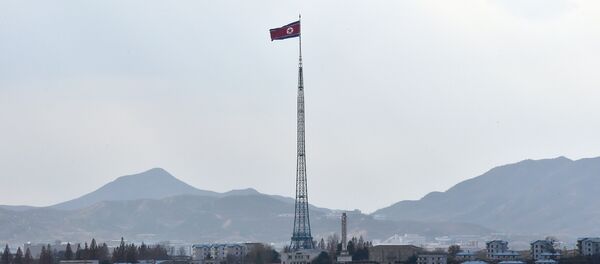 14 January 2016, 00:46 GMT
WASHINGTON (Sputnik) — On Tuesday, the US House of Representatives overwhelmingly approved a bill to impose tougher sanctions on North Korea following its January 6 nuclear test.
"Until the Chinese decide that [North Korean leader] Kim Jong Un is too much of an albatross, there isn't much we can do," Ohio Northern University Associate History Professor Robert Waters told Sputnik on Wednesday.
North Korean leaders for decades, Waters noted, had viewed economic sanctions imposed by the United States and the international community as obstacles to talks, and that Pyongyang had repeatedly insisted such embargoes be lifted before substantive negotiations could begin.
"In 1994, President Bill Clinton sent former President Jimmy Carter to defuse an impending war with North Korea over that country's nuclear program, but Carter believed sanctions would undermine the agreement he had worked out," Waters recalled.
Instead, Carter confused the foreign policy of the US government with his own personal inclinations, and conducted some free-lance diplomacy on CNN undermining the UN-imposed sanctions, Waters added.
"According to historian Douglas Brinkley, a Clinton Cabinet member referred to Carter as 'treasonous' for his behavior," Waters pointed out.
Independent Institute Center on Peace and Liberty Director Ivan Eland agreed that the latest congressional moves, if implemented, were unlikely to have any effect on changing the Pyongyang government's policies.
"Economic sanctions are unlikely to achieve big policy results, despite appearances," Eland said. "North Korea has little going for it to have influence on the world's stage, except for its nuclear weapons. Thus, economic sanctions are unlikely to get Kim to give up his nuclear weapons and missile programs."
Eland drew significant differences between Iran, where cumulative economic sanctions eventually brought the government to the table to sign the P5+1 nuclear agreement and North Korea, which was a very different kind of country.
"Economic sanctions relief may have had some effect in Iran, but you also had more moderate leadership and a young population tired of Iran being an international pariah," Eland argued. "Also, the revolutionary fervor in Iran has long dissipated."
On January 6, Pyongyang claimed it had carried out its first hydrogen bomb test, triggering condemnation from the international community.