WASHINGTON (Sputnik) — President Barack Obama has failed to provide leadership in promoting campaign finance reform measures that could diminish the corrupting influence of big money in American politics, Campaign Legal Center Deputy Executive Director Paul Seamus Ryan told Sputnik.
During his State of the Union address on Tuesday, Obama said the US government should find ways to prevent wealthy donors from influencing the country's elections, especially if existing approaches to campaign finance reform "can't pass muster" in the courts.
"Back in 2007-2008, President Obama campaigned on promises to diminish the influence of big money in our politics and through seven years in office has done nothing to fix the problem," Ryan told Sputnik on Wednesday.
In fact, the problem has gotten much worse, Ryan suggested, and contrary to Obama's suggestion that existing approaches might not pass muster in the courts, several important reforms are clearly constitutional even with the current conservative US Supreme Court majority.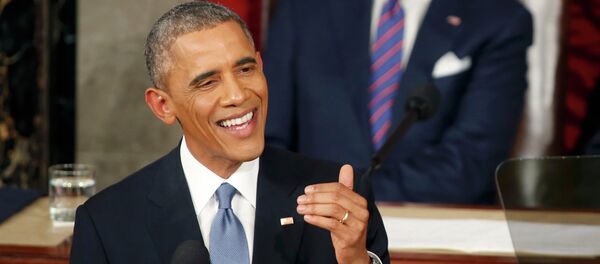 13 January 2016, 03:57 GMT
"The only thing missing is political leadership on this issue in the White House and in Congress," Ryan claimed.
Obama could be promoting public campaign financing, Ryan noted, including resurrecting and updating the presidential public financing system that he abandoned in 2008.
Moreover, if Obama were serious about reducing the influence of big money in politics he could replace five commissioners on the Federal Election Commission who are serving expired terms with commissioners "more willing to do the job of enforcing our federal campaign finance laws."
"And, of course, President Obama could take the much easier — but important — step of issuing the Executive Order requiring enhanced campaign finance disclosure by government contractors, which has been sitting on his desk unsigned for months," Ryan concluded.
Obama said during his speech on Tuesday that he will travel throughout the United States in 2016 to push for reforms and modernize the voting process in the country.