After more than a year in office, Poroshenko's current ratings stand at 17 percent. In contrast, in May 2014, almost half of Ukrainians approved of his leadership (47 percent), the Armenian News Agency Armenpress reported, citing data published by Gallup International.
Right before Yanukovych was ousted his rating was 20 percent, the Ukrainian channel said.
In 2013-2014, Kiev's central Independence Square, known as Maidan, witnessed months of pro-European protests sparked by Yanukovych's decision to reject the Ukraine-EU Association Agreement.
A number of prominent figures from the Maidan protests later formed the new Kiev government after Yanukovych was ousted by parliament in February 2014 and had to flee, fearing for his life.
Poroshenko's failure to deliver what Maidan protesters demanded when they took to the streets two years ago resulted in the low ratings, the channel explained. Furthermore, his government's war in Donbass, as well as the horrible state of the Ukrainian economy also reflected people's views.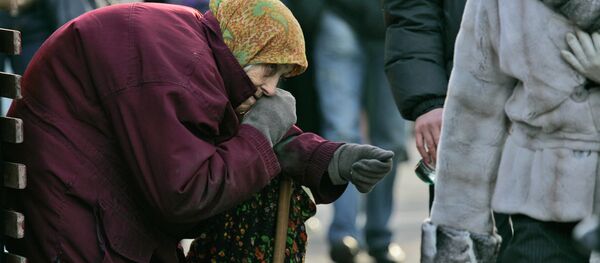 30 December 2015, 11:01 GMT
Ukraine may face complete economic failure as inflation progresses and foreign loans are unable to save the country's
economy
.
The International Monetary Fund (IMF) has done a lot to contribute to the rehabilitation of Ukraine, but the threat of hyperinflation is still urgent, while the country itself is close to bankruptcy, the newspaper wrote.
According to the National Bank of Ukraine, inflation in the country reached 44 percent this year compared to 24.9 percent last year. Chaotic economic policies, corruption and civil war in the eastern regions of the country have put Ukraine on the brink of national bankruptcy.