MOSCOW (Sputnik) — The first spacewalk in 2016 from the International Space Station's (ISS) Russian segment as part of Russia's Extravehicular Activity (EVA) program is set to take place on February 3, the Russian Mission Control Center said Thursday.
"The first spacewalk of the Russian EVA-42 program will be conducted from the Pirs module and is scheduled for February 3. It will be performed by Yuri Malenchenko and Sergei Volkov. The program of operations [to be performed] on the ISS surface is currently being discussed," a source in the center told RIA Novosti.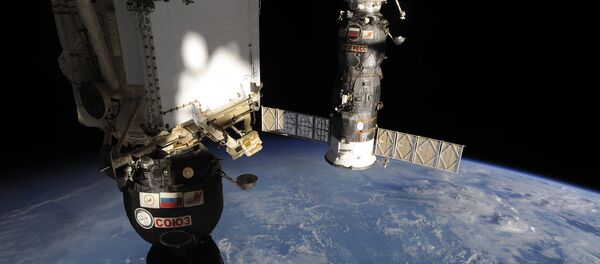 31 December 2015, 19:27 GMT
The first US EVA program spacewalk in 2016 will take place on January 15, according to
NASA
. The European Space Agency's astronaut Tim Peake and NASA's Tim Kopra will replace a tripped current-switching device after a short circuit destroyed one of the station's eight electric lines in November.
Malenchenko, Kopra, and Peake left Earth on December 15 aboard a Soyuz TMA-19M spacecraft launched from Kazakhstan's Baikonur Cosmodrome. Volkov had already been stationed at the ISS. The NASA EVA will be Peake's first spacewalk.