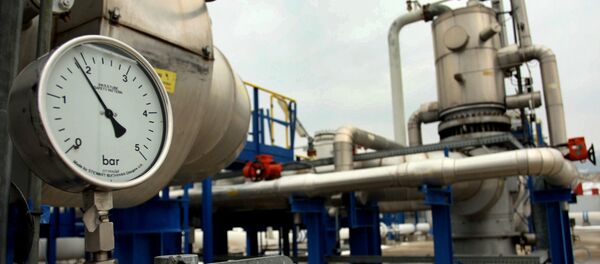 4 January 2016, 20:30 GMT
KIEV (Sputnik) — The volume of gas purchased by Ukraine from the European Union is double the volume delivered by Russia, Ukrainian President Petro Poroshenko said Thursday.
"We are buying twice as much gas in the European Union as we are receiving from Siberia," Poroshenko told reporters.
He added that this situation proved that Ukraine had gained energy independence from Russia in 2015.
On December 27, Ukrainian Prime Minister Arseniy Yatsenyuk said that the country's gas consumption had diminished by almost 25 percent in 2015 and Kiev's ultimate goal was to achieve the country's total energy independence within ten years.
In October, Ukraine's energy company Naftogaz said that the country was completing its purchase of gas from Russia' energy giant Gazprom, and a decision to continue to import gas from this supplier would depend on price. The following month, Ukraine halted purchases of Russian gas, saying the pricing offered by its European partners was much lower than that offered by Moscow.