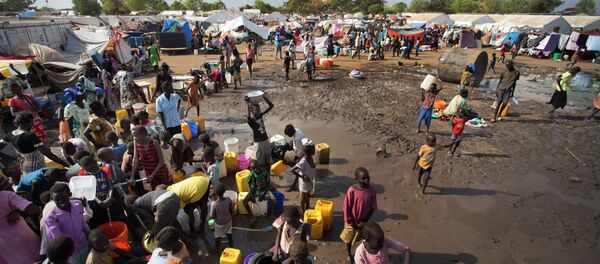 8 January 2016, 15:20 GMT
MOSCOW (Sputnik) — Some two months ago, a UN delegation visiting Israel was assured that Israeli weapons had not been supplied to either of South Sudan's opposing factions since early 2014, Haaretz newspaper reported.
While the UN Security Council imposed sanctions, including a weapons embargo on those involved in the ongoing fighting in South Sudan in March 2015, a late August UN report exposed the use of Israeli-made weapons by the South Sudanese army.
Israel has stressed that Galil ACE assault rifles were sold to South Sudan by private companies prior to the start of the civil war in the African country in 2013, the newspaper said, adding that the sale of non-lethal arms continued. Israel has also attempted to mediate between the conflicting sides, the report added.
Civil war broke out in South Sudan in late 2013 between the country's government and opposition forces after President Salva Kiir Mayardit accused opposition leaders Riek Machar and Pagan Amum of planning a coup. Tensions between the Dinka and Nuer ethnic factions in the Presidential Guard escalated into hostilities in the nation's capital, Juba, before spilling over to other areas.
Over 10,000 people had died by early 2015 as a result of the fighting, according to the Armed Conflict Location & Event Data Project. Almost two million civilians had been displaced by mid-2015, according to the UN.