WASHINGTON (Sputnik) — The $5 billion fine imposed this week on the giant investment bank Goldman Sachs proves that the US financial system centered on Wall Street is based on fraud, Democratic presidential candidate and Senator Bernie Sanders said in a press release.
"The $5 billion settlement with Goldman Sachs should make it clear to everyone that the business model on Wall Street is fraud," Sanders stated on Friday. "[T]he time has come to shut the revolving door between Wall Street and the federal government."
On Thursday, Goldman Sachs agreed on a deal with the US government to pay a $5 billion fine for bogus marketing schemes on home mortgages during the financial crisis seven years ago.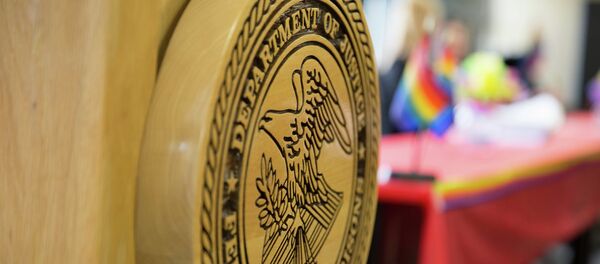 14 January 2016, 22:49 GMT
Sanders stated Goldman Sachs and other Wall Street banks will not be represented in his administration if he wins the US presidency.
"Instead, we need federal prosecutors and regulators with a clear track record of standing up to the greed, recklessness and illegal behavior on Wall Street," he said.
Sanders noted that in 1995, Goldman Sachs former co-chairman Robert Rubin became US Treasury Secretary and in 2006, Goldman Sachs Chairman Henry Paulson became Treasury Secretary. Moreover, Paulson convinced Congress in 2008 to pass legislation giving him $700 billion to bailout Wall Street.
The Vermont senator has pledged to break up the biggest US banks and restore the 1933 Glass-Steagall Act, which separates the functions of savings banks and investment banks.
Sanders' plan is backed by 170 economists, including former Labor Secretary Robert Reich and Professor James Galbraith.